Are you looking for an online grammar checker tool to help you review your writing and find grammar mistakes? If yes, then this article is for you. Here, we'll introduce 12+ best grammar checker tools available in 2023 – free and paid tools. 
From a browser extension to a free grammar tool, a grammar corrector, and a premium version of the popular Grammarly software, these grammar-checking tools have everything you need to understand English grammar rules and ensure your written work is accurate.
Whether it's an important business letter or a social media post, each one of these tools can help you make sure there are no errors in your writing.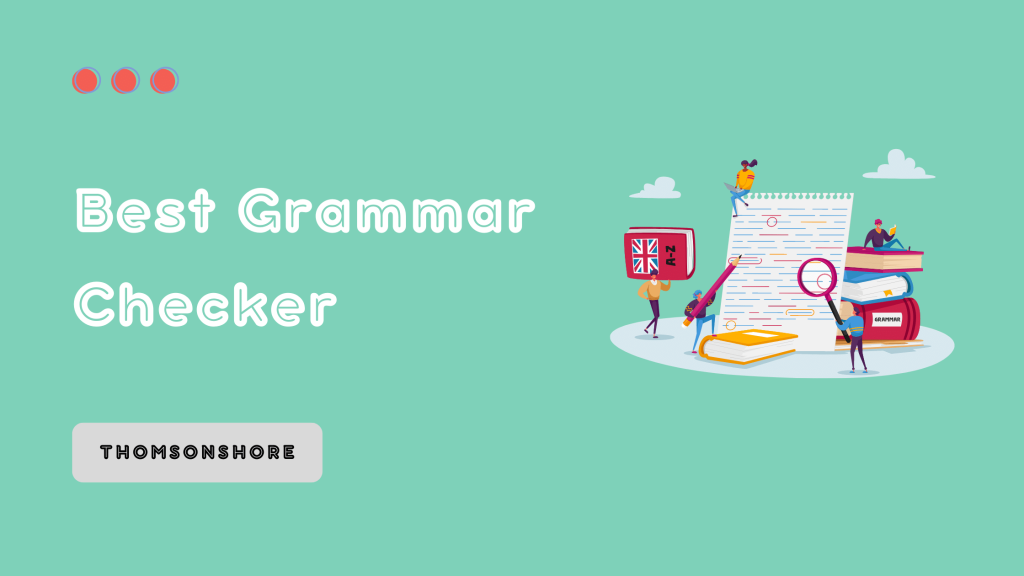 So if you're looking for the perfect tool to help improve your writing skills and avoid embarrassing grammar mistakes, read on. Here are some of the best grammar checkers available today.
So, let's get to the details!
What are the benefits of using a grammar checker tool? 
Using an online grammar checker tool can be very helpful in improving your writing. For example, it can help you identify and correct grammar mistakes you may have overlooked before without manually checking each sentence. 
It is a free tool; some even come as browser extensions or apps for increased convenience! Grammarly Premium is an example of a popular grammar-checking tool that offers advanced grammar checks and educational materials on grammar rules. 
Using a grammar-checking tool such as Grammarly Premium, you can quickly identify and rectify any grammar mistakes and improve your writing in the long run.
So Which One is the Best Grammar Checker?
While all the tools in our list work exceptionally, if you are on the go and need quick suggestions, here are our top five picks for 2023. 
Grammarly: All-in-one solution for students and professionals. 
ProWritingAid: Best for proofreading and grammar checking. 
QuillBot: Best for students needing a grammar checker and paraphrasing tool. 
Virtual Writing Tutor: Best free grammar checker. 
Writer: Best grammar checker for teams. 
Scribens: Best grammar checker for businesses.
Ginger: Best for a comprehensive spell and grammar check. 
Jetpack: Best for tech-savvy writers. 
Language Tool: Best for non-native English speakers. 
Zogo Writer: Best for a comprehensive look at the writing style. 
Linguix: Best for a complete analysis of grammar and punctuation. 
Outwrite: Best for automated feedback on grammar and spelling. 
Top 12 Most Promising Grammar Checkers In 2023
Now that you know some of our top picks, let us dive into the complete list of top grammar checkers below! 
1. Grammarly (Free and Paid)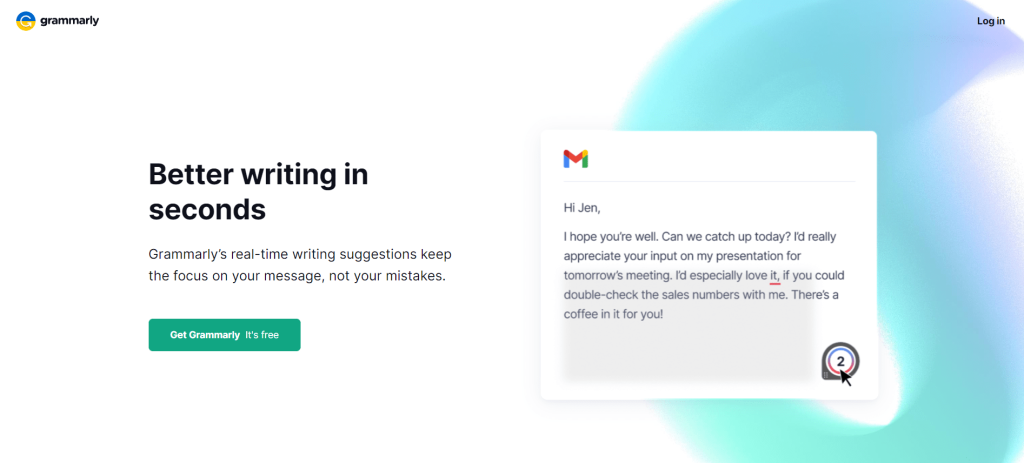 Grammarly is among the most widely used grammar checker tools due to the various features it provides in its free and premium plans. The tool is an all-in-one solution for students and professionals. This AI writing assistant makes polishing your content easier than other tools. Moreover, its availability as an extension for Chrome, Google Docs, and Microsoft Word makes it user-friendly. 
Key Features:
In-built thesaurus 
AI-based text checker
In-built dictionary
Provides a score for each content to understand how well your content is written. 
Pricing: The basic version of Grammarly is free. However, if you want to access all the Grammarly features, you can opt for its premium version starting at $12 per month (on an annual subscription). 
2. ProWritingAid (Free and Paid)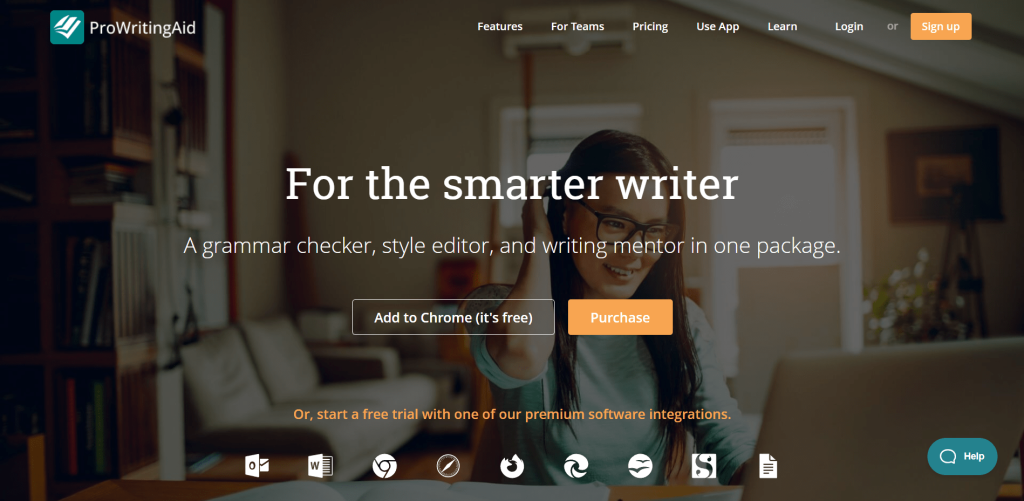 It comes as no surprise that ProWritingAid made it to our list. After all, it is one of the robust grammar checkers that provides a hassle-free checking experience to its users. ProWritingAid can check text for punctuation, spelling, and grammar errors among the most affordable grammar checker tools. In addition, the users can choose between US English and British English.
Key Features:
Safari, Edge, Chrome, and Firefox extensions
Scrivener integration
Self-editing reports 
Easy to use interface. 
Pricing: Like Grammarly, ProWritingAid offers three different plans – $20 for the monthly plan, $79 for the yearly plan, and $299 for the lifetime plan. The final subscription is a one-time payment and consists of all updates. 
3. Quillbot (Free and Paid)

Quillbot is a widely used paraphrasing tool in 2023 with a beginner-friendly user interface. But one of its prominent features includes its built-in grammar checker that helps you understand the errors in your content and ensure it is top-notch! The tool is most popular among university students.
Key Features:
Compare modes
Three synonym options
1200 summarizing word limit
Fluency and standard modes
Pricing: You can try Quillbot for free, but the word limit may make it tiresome. If you wish to avail yourself of all the premium benefits, you can purchase the premium plan at $20 monthly.
4. Virtual Writing Tutor (Free)

Virtual Writing Tutor is a free grammar checker and proofreader that offers services of great significance to students. You can check punctuation, spelling, paraphrasing, and word count. Besides editing options, it also allows students to prepare for IELTS through practice tests. Although it does not perform as well as a human proofreader, it is helpful to anyone looking for a free and reliable grammar checker! 
Key Features: 
Support through tickets
Paraphrase checking
Grammar checker API service
Word count
Power words and cliches checker
Conversational and academic vocabulary checker
Pricing: Virtual Writing Tutor is free, meaning users can access all its features.
5. Writer (Free and Paid)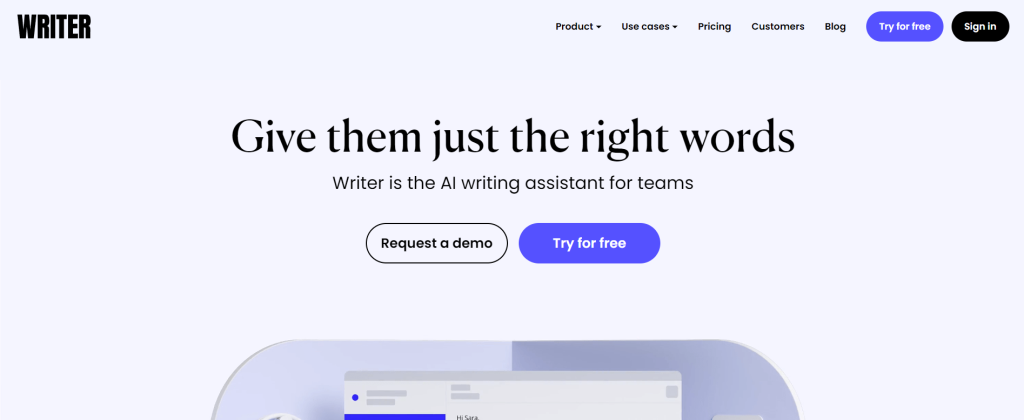 A Writer is an AI-based tool designed specifically for teams. It helps edit all written content in Google Docs, from emails to documents. It has many integrations like Slack, Twitter, WordPress, and HubSpot, making it easier to use. Additionally, it provides some robust features that make it one of the best grammar checkers for work. The only drawback is that the features are more drawn toward teams, and students may need help to get the most from Writer. 
Key Features:
About 200 custom terms
Content scoring
Verb conjugations
Language and readability check even in the free version
Plagiarism and inclusivity check
Punctuation and tense analyzer
Verb conjugations
Content security
Pricing: If you are looking for the PRO version features, you can avail of it at $11 monthly.
6. Scribens (Free and Paid)

Another excellent grammar checker on the list is Scribens. Scribens allow users to check several spelling, grammar, and style errors. The users can also choose between American English and British English vocabulary. Furthermore, they also choose to opt for autocorrect or manual correction. It is ideal for students and professionals needing assistance to understand their content. 
Key Features: 
User-friendly interface
No word limit, even in the free version
Compatible with Mac, Windows, and browser
Pro version for the French language
Pricing: Users can avail of some free benefits through Scribens, the paid version costs €9.90 per month. 
7. Ginger (Paid)

Ginger provides its users with an online proofreading tool and a spell checker. The latter is majorly concentrated on grammar and spelling checks. Ginger and Grammarly are strong competitors, offering similar features. Furthermore, the tool can be used directly from the online website, through the Windows app, Android/iOS, MS Outlook/Word integration, or a browser add-on. 
Key Features:
Style checker
Over 40 language translations in the premium version
Type while proofreading
In-built dictionary
In-built thesaurus 
Pricing: If you are looking for an affordable grammar checker solution, Ginger costs $13.99 per month. Moreover, you can get a 40% discount by opting for the annual plan. Not to mention, the platform provides a money-back guarantee for seven days as well.
8. Jetpack (Free)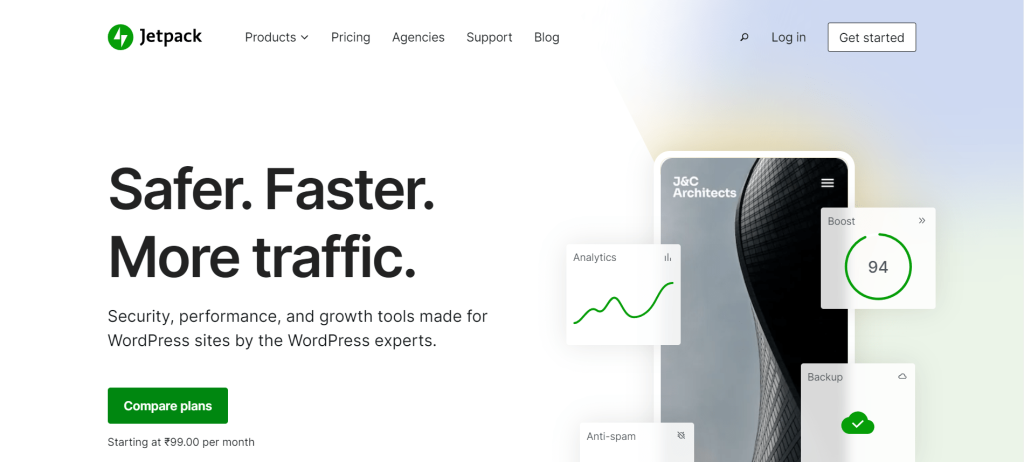 Jetpack is among the most widely used WordPress plugins due to its performance optimization, site security, and other significant tools. You only have to head to Jetpack, then Settings, and click on writing. Here, enable the grammar, style, and spelling check features. However, it is ideal for people who need corrections to the content they publish on their websites. Students cannot avail themselves of the benefits of Jetpack for their assignments, essays, and other documents for school. 
Key Features:
Available in several languages
Color coding for recognizing errors 
No hidden costs
Frequent updates 
Pricing: The features mentioned above can be availed for free since the proofreading tool is entirely free of cost.
9. LanguageTool (Free and Paid)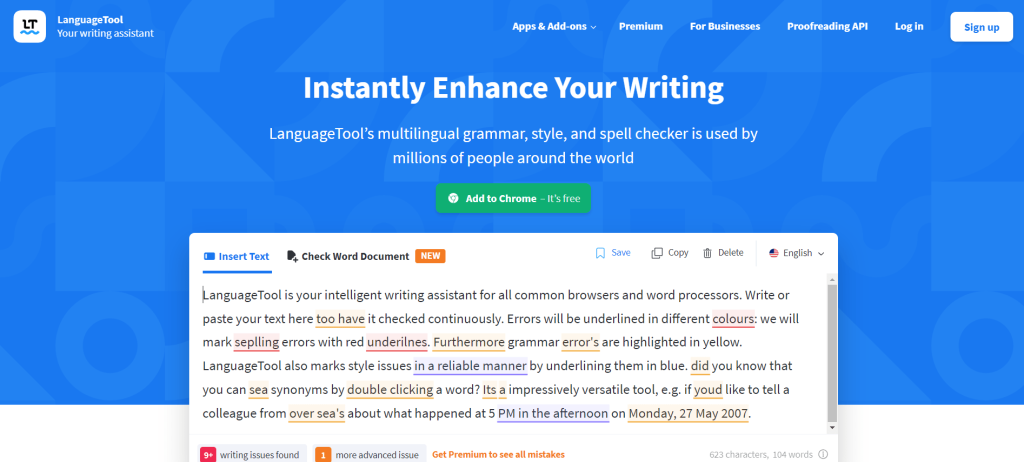 Similar to Grammarly, LanguageTools checks spelling, style, and grammar. Nonetheless, it also has some additional features, making it a close competitor of Grammarly. It is an excellent proofreader and grammar checker, suitable for professionals and students. This tool is a fantastic choice because it also supports a grammar checker for German. 
Features:
Tone and style correction recommendations
Add-ons for MS Word and Google Docs
In-built dictionary
macOS app 
Up to 60,000 characters in the premium version
Pricing: LanguageTool has a premium version that can be availed at €3.99 monthly.
10. Zoho Writer (Free)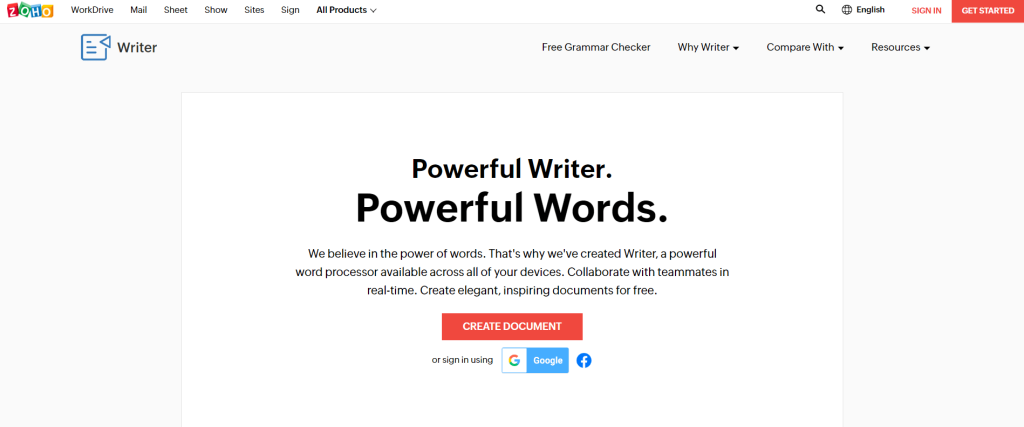 Zoho Writer provides smart recommendations such as redundancy, subject-verb agreement, punctuation errors, and context-aware suggestions. Its smart writing assistant tracks how the user uses the passive voice, cliches, and adverbs. These make it the perfect tool for forming excellent and professional files for commercial purposes. 
Key Features:
Style and spelling check
Writing quality enhancer
Wordy phrases checker
Unsuitable word preference checker
Readability checker
Pricing: You can use the in-built Zoho Writer for free. 
11. Linguix (Free and Paid)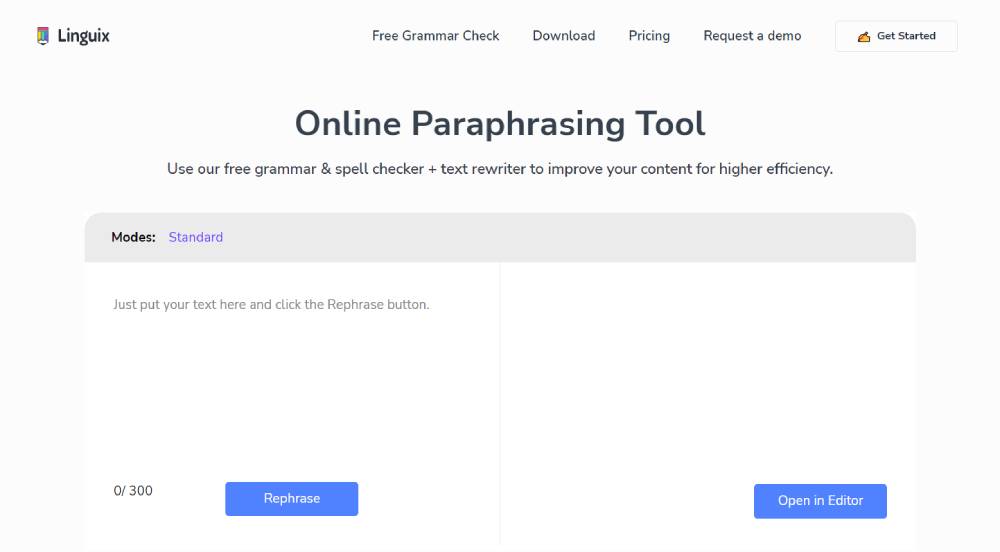 Since Linguix is aimed at a commercial audience, the grammar checker tool can be compared with Grammarly Business. Still, due to the availability of its variety of plugins as well as reasonable pricing, it is popular among businesses. 
Key Features:
State-of-the-art writing insights
Secret mode
Personal dictionary
Plagiarism checker
Pricing: There are several plans apart from the free plan, starting at $18.95 per month for one user.
12. Outwrite (Free and Paid)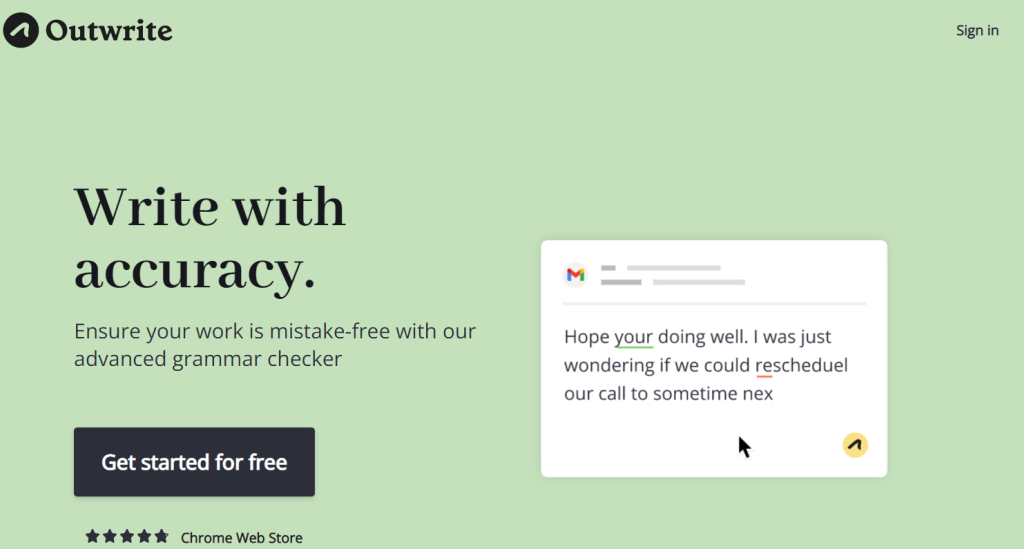 Outwrite is an all-in-one grammar checker that helps you improve your writing. It's designed to catch common mistakes and provide clear, concise feedback so you can take your writing from good to great. Outwrite works with any text editor or document processor to be used in various contexts: for professional documents, academic papers, social media posts, and more.
Key Features:
Vocabulary enhancement

Readability scoring

Clear, concise feedback

Works with any text editor and document processor

Supports multiple languages
Pricing: Outwrite is available for a one-time fee of $9.99 per user or unlimited access for the first month for free.
How can I embed a free grammar checker into a webpage or blog post?
An online grammar checker can be a great way to improve your writing. There are many free tools available that you can use to embed into a webpage or blog post. One of the most popular is Grammarly, which offers free and premium versions. 
With the free tool, you can easily detect common grammar mistakes such as wrong usage of tenses, incorrect punctuation, and incorrect spelling. You can also get browser extensions for Grammarly to help check grammar rules while writing. 
For more advanced users, Grammarly Premium offers more features, such as plagiarism detection and an AI-powered vocabulary enhancement tool. 
Related Read:
Wrapping Up!
I hope this article shared some of the most popular grammar checker tools for 2023. Their purposes, features, and pricing differ, making them unique. 
If you are overwhelmed with the above options, we recommend trying Grammarly or ProWritingAid. Both tools offer robust features that will help your content make it error-free. However, when choosing a grammar checker, ensure you understand your budget, use, and expectations. 
Nevertheless, any tool you pick will help boost your writing! 
This article helped you pick the best grammar checker. So, which tool did you choose? Let us know in the comment section below. 
Frequently Asked Questions:
Which is the best free grammar checker online?
If you want a free grammar checker, use Grammarly, ProWritingAid, Writer, Zoho Writer, and Scribens. 
Is Quillbot better than Grammarly?
Quillbot is the more affordable choice, but its features are limited. So if you are looking for a tool for academic purposes, Quillbot is a better choice. 
Is there a website that will correct grammar sentences?
You can correct grammar sentences on several websites. For example, several grammar checker tools have a web version, such as Grammarly, Zoho Writer, Scribens, etc.