Are you trying to decide between Udacity and Coursera for your online learning needs? These popular online learning platforms offer various courses, certificates, and even Nanodegrees and online degrees. Comparing the two can be daunting – but we're here to help.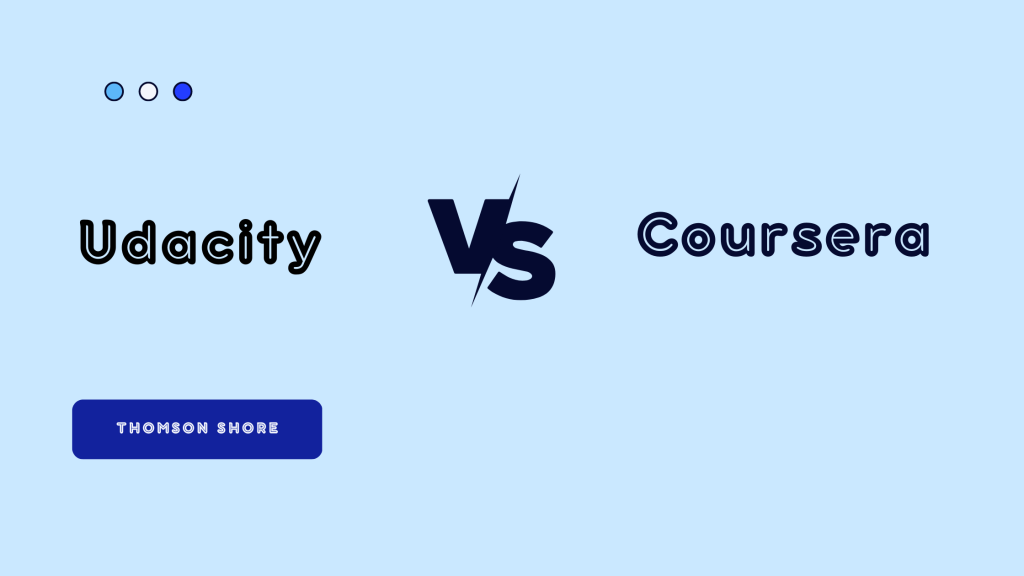 This article is an ultimate comparison of Udacity vs. Coursera: what each platform offers, how they differ, and which one might be the better option for you. Finally, we'll examine differences in course offerings, instructor types, and machine learning opportunities on both platforms and their Nanodegree programs.
Finally, we'll provide an overall comparison to help you decide which platform best suits your needs. So let's dive in!
Udacity vs Coursera: What Platform Should You Pick In 2023?
Before getting into the details, let us go through a brief overview of Udacity vs Coursera. This section is only to provide a better understanding of the e-learning platforms.
Udacity Overview:
While Coursera is one e-learning platform, Udacity specializes in delivering technology and its based courses. Udacity is the perfect platform to learn programming, data engineering, C++, and many other technological skills.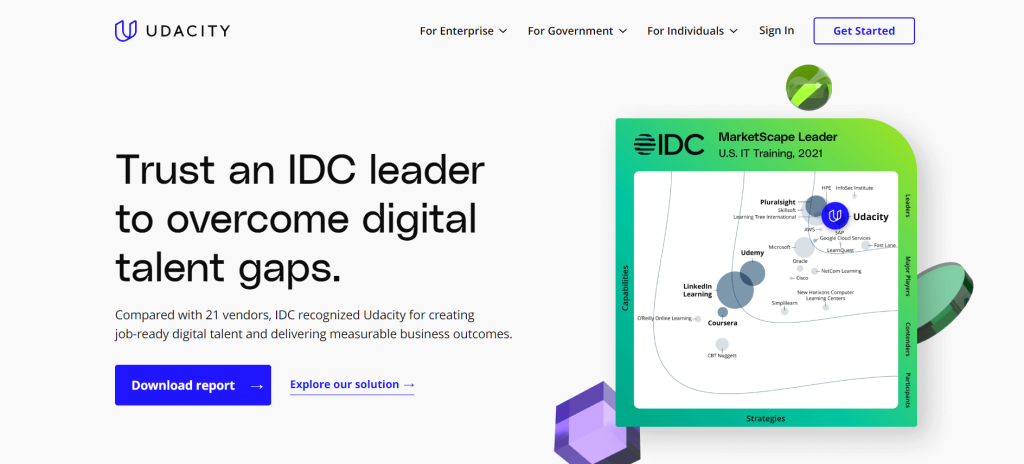 Udacity is a reliable and loyal consumer base of 14 million learners and provides hundreds of courses to upscale your technical skills. These skills are not only practical but can also help you to build a stronger resume.
Coursera Overview:
Coursera has a massive catalog of over 7000 free and paid courses from top institutions, including IVY League universities. With more than 200 leading universities and millions of users, Coursera has become a popular e-school among learners.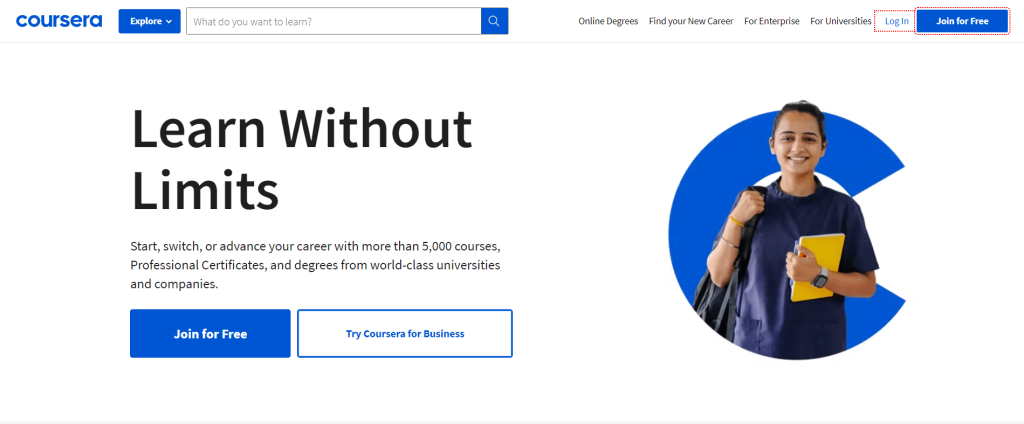 The best part about Coursera is that it enables top-quality learning without stepping out of the house.
Udacity vs Coursera: Which Is Best For Businesses?
Regarding online courses, businesses have two main choices: Coursera and Udacity. In addition, Coursera offers various individual courses and degree programs, whereas Udacity focuses more on tech-related Nanodegree programs.
Businesses may be drawn to the open online courses available on Coursera due to their lower cost and flexibility. In contrast, Udacity provides more specialized, hands-on learning experiences with projects and assessments that help advance students in their chosen fields.
Both platforms offer free courses, but these will not give you certification or recognition. With Coursera's selection of courses, businesses can also access verified certificates upon completing the course. Udacity also has degree programs recognized by leading employers such as Google, Amazon, and IBM.
In conclusion, each platform has its advantages for businesses, depending on what they seek in an online course.
Udacity And Coursera: Key Features
After briefly knowing both e-learning platforms, let us focus on the critical details. The first thing we will be discussing is the key features of Udacity and Coursera.
Udacity Key Features:
Data science and data engineering
Digital competency
Artificial intelligence
SQL programs
Digital Marketing
Highly vetted network expert
Coursera Key Features:: 
Health and wellbeing
Arts and crafts
Commerce
Life sciences
Personality development
Data Science
Social sciences 
Coursera vs Udacity: User interface
A platform's user interface is vital to consider before making a choice. For example, if the platform does not provide a beginner-friendly user interface, you will have to spend significant time figuring out and adjusting to the platform.
Choosing a platform with a simple user interface is better to start learning from your course quickly.
Udacity User Interface:
Udacity has a simple interface, meaning new users can easily navigate their website. However, due to the beginner-friendly nature of the platform, learners do not have to waste time figuring out how to use it and quickly get to the learning part.
Even though the Udacity website might not be eye-pleasing or creative, it has all the necessary features and functionalities to make learning easier and better. Moreover, all the essential elements on the dashboard are present on the home page.
The dashboard has all the necessary plans and sections for simple course browsing. You can choose the plan from the displayed section like enterprise, individuals, business, etc.
Coursera User Interface:
Coursera has a beginner-friendly website with all the components in its home age. You can find everything you want from its dashboard to the rest of the page. Moreover, if you have in mind a specific course, you can also search for it in the search bar.
The best part about Courser's Courser'srface is that it has divided the platform into two parts, Coursera and Coursera Plus, so the users do not get confused and quickly find the course they want.
Udacity vs Coursera: Courses
While Udacity and Coursera both offer a wide range of courses, there are some areas where each platform has its expertise. So here we have listed the best courses of Udaciy vs Coursera in 2023.
Udacity Courses:
More than 200 free courses 
Marketing Analytics
AI product and management
UX design
Artificial intelligence for training
Self-driving car engineering 
IOS and Android development 
Coursera Courses: 
Google IT support
Programming for everybody 
Improve your English communication skills specialization
Virtual reality specialization
Fiance for everyone's specialization
The Science of well being 
Foundations of positive psychology specialization
Udacity vs Coursera: Customer Support
Any e-learning platform must have well-functioning and responsive customer support; otherwise, it becomes difficult for users to solve their problems. They might even have to stop their course because of some issues. So, let us find out whether Udacity and Coursera provide excellent customer support.
Udacity Customer Support:
Udacity has 24/7 support that is active 365 days a year. All you need to do is head to their help center and click on the chat box present at the bottom right corner. You can connect to a human by emailing about your issues or queries.

Udacity also has blogs, videos, and other FAQs to help clear your doubts about their platform. However, you can always contact the support team if you do not find what you want. However, if you use the free version, you might have to wait a little longer to get a response.
Coursera Customer Support:
Coursera has exceptional customer support available all days of the year at any time. The support team of Coursera has many articles for their users. These articles provide hell in solving all the standard issues and queries related to their platform.

Moreover, you have also connected with them via chat. Just head to their help center and enter the chat section; you can post your questions and problems and get instant solutions here. However, the support team might take a while to respond, so you must be patient.
Udacity vs Coursera: How Much Do They Cost?
Here we have compared the pricing between Udacity and Coursera so that you can understand the cost of each platform and then invest accordingly.
Udacity Pricing:
| | | |
| --- | --- | --- |
| Udacity Courses | Pricing  | Best for |
| The Nanodegree plan | $399 | Best for business statistics and analysis |
Udacity For Business:
Udacity also has an enterprise or business plan, where you can get custom plans according to your team's requirements. The price of these plans is customized depending o your team or group. This subscription is best for large companies and business owners.
Coursera Pricing:
| | | |
| --- | --- | --- |
| Coursera Plan | Pricing  | Best for |
| Single Learning Program | $49 – $79 | Best for entry-level and skill-based learning |
| Coursera Plus Monthly | $59 | Best for certified courses and high-quality course content |
| Coursera Plus Annual | $399 | Best for learning in-depth about any topic |
Udacity vs Coursera: Pros And Cons
Now let us discuss the pros and cons of Udacity vs Coursera so that you can understand which e-learning platform meets your expectation and is the best for you.
Udacity Pros And Cons:
| | |
| --- | --- |
| Pros  | Cons  |
| High-quality course content | You need a high budget |
| Career services | Not mobile-friendly |
| Certified courses | Topics are limited to a specific field |
| Intuitive user interface  | Courses available in only one language |
Coursera Pros And Cons:
| | |
| --- | --- |
| Pros  | Cons  |
| Massive course catalog | Degree is expensive |
| Affordable pricing | Entry-level courses may require prior knowledge |
| Learn anything from anywhere | Confusing pricing |
| Exceptional customer support | Slow page loading |
Who Is Udacity Ideal For?
After looking at all the aspects of Udacity and Coursera, it is clear that Udacity offers the best technology and data science courses. So, anyone who wants to learn programming or any other technology-related skill, you go for Udacity.
Udacity is ideal for beginners to professionals looking for IT or data engineering courses to learn new or upscale their skills. These courses are certified and can reflect in your portfolio to help you get better career opportunities.
Moreover, Udacity has responsive and helpful customer support. The courses here have flexible deadlines, meaning you can complete them at your own pace by readjusting the timeline.
Who Is Coursera Ideal For?
Coursera offers high-brow education with its courses and degrees. These courses are specially curated to achieve exceptional skills by top experts from leading universities worldwide. You can find systems that are research-based and have various activities that make the learning experience better.
Coursera caters to everyone'severyone's demands, from art to business, science to personality development, and many more. So, it is perfect for all learners, from newbies to experts, eager to learn something new or refine an existing skill.
With additional exercises like quizzes, assignments, projects, etc., Coursera ensures learners gain a skill for a lifetime and should help them in their careers by pricing certification. You can study one or multiple courses simultaneously at your own pace, as Coursera has flexible timing and deadlines.
Related Read:
Final Verdict: Coursera vs Udacity 
And that's a hope that by now, you must have understood the difference and similarities between Udacity and Coursera. This practical and trustworthy comparison lets you decide which e-learning platform best suits your needs.
If you ask us, you should choose a platform with all the necessary functionalities you need for proper learning that fits your budget. Compare the courses you specifically want and see which platform provides better options. Once you decide on these things, you will choose within no time.
We hope this article helped you choose the right platform; which platform did you choose? Let us know in the comments section below!
Frequently Asked Questions
Is Udacity better than Coursera?
Both Udacity and Coursera have exceptional features and functionalities that enable efficient learning. So it depends on your needs and which platform will suit you the best.
Is Coursera ideal for beginners?
Although Coursera has many options, some entry-level courses here require prior knowledge of the topic or subject.
Are the Courses of Courses helpful for your career?
The course on Courses is skill-based and trains you to apply the knowledge for your betterment. They also provide certifications that are helpful in your professional career.