Are you planning to use the Grammarly Plagiarism Checker but are unsure of its accuracy? If yes, your doubts will be cleared through this article.
Before using the Grammarly plagiarism checker, we had plenty of doubts about its accuracy. During our online research, we found very biased reviews. So, we decided to ease your confusion and provide you with our honest review of Grammarly's plagiarism checking feature!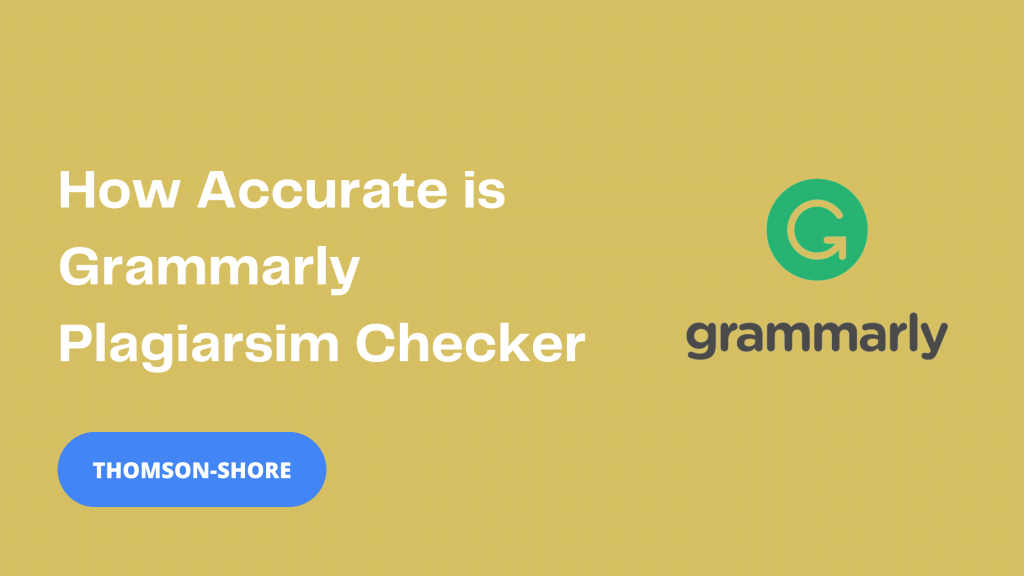 In this article, we will explain how the plagiarism checker works, its main features, pros, and cons. Further, we will provide you with an overview of the tool along with explaining the extent to which it is reliable. Eventually, you will get to know if you can use it for free. Sounds exciting.
So let's learn about the tool without any delays, shall we?
Grammarly Plagiarism Checker: In a Nutshell
In the digital era, ensuring that the produced content is free of grammatical and spelling errors is crucial. But what's more, writers often tend to create content with phrases or text similar to another piece of content, which is quite intolerant. This suggests the need for a plagiarism checker to ensure that the content is a hundred percent unique.
While several plagiarism-checking tools are available online, some work better than others, and one such popular tool is Grammarly. Commonly known for checking grammatical errors, spelling mistakes, and punctuation, Grammarly consists of a Plagiarism Checker as well. The feature, available in the premium version of Grammarly, allows the detection of any plagiarism in the text.
Grammarly Plagiarism Checker: Working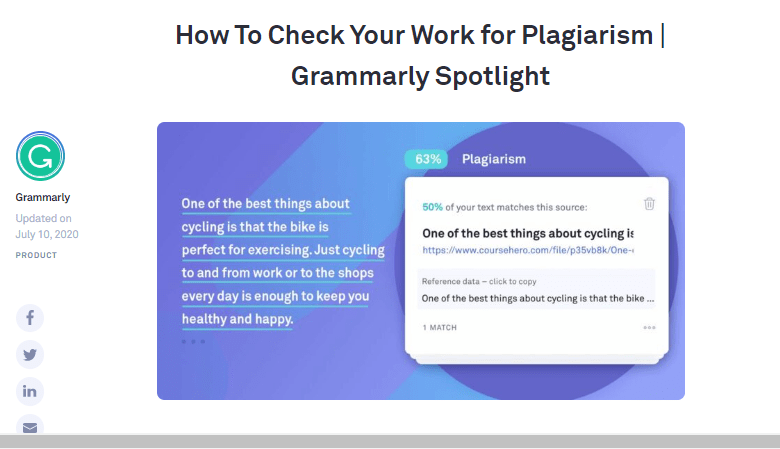 The tool utilizes an algorithm to look for work against numerous web pages. Consequently, the user gets a plagiarism report, which allows them to determine if the content is entirely original and, if not, which part isn't. Although few Grammarly features can be accessed through Chrome, you will require to utilize the Grammarly Editor in case you wish to check your content for plagiarism. In order to do so, you will have to follow these steps:
Open Grammarly Editor.
On the Grammarly page, paste your content.
Click the plagiarism button.
Once you have gone through the process, you will notice some blue underlines on your text. These imply the issues found by the tool.
Grammarly Plagiarism Checker: Key Features
The widespread use of Grammarly Plagiarism Checker is due to the countless features that the tool consists of. If you are not sure what these features could be other than checking for content originality, don't worry. We have outlined some of the key features below.
Detects the percentage of plagiarized content
Content-sensitive analysis
Scans for complex and common grammatical errors.
Besides, you can use all the premium features with the in-built plagiarism checker!
Grammarly Plagiarism Checker: Benefits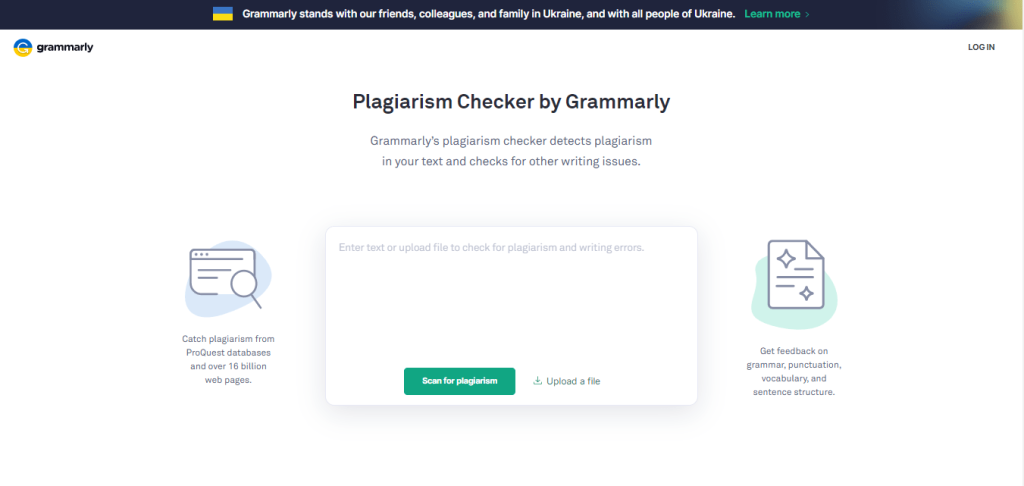 Now that you know the critical features of Grammarly Plagiarism Checker, let us see why you should use this tool above any other that checks for plagiarism. Some of the significant advantages that we found interesting are briefed below.
Detects Plagiarism from Several Sources
One thing you do not worry about while using Grammarly to detect plagiarism is the tool missing out on a webpage or another published piece of content. This is because it checks the content for plagiarism against billions of web pages and over a billion student papers. So even in a case the content is well-hidden behind a paywall, Grammarly will look for plagiarism against that as well.
Ease of Use
The tool has a beginner-friendly UI, making it easy for everyone to use. All you need to do is copy the content of your document, paste it into the tool, and click on the plagiarism button. The tool will look for content originality, and the results will be in front of you within a few seconds.
Know the Sources
Several plagiarism checkers detect plagiarism, show the percentage of plagiarism detected, and that is it. Unlike these, Grammarly Plagiarism Checker indicates similar content and provides a list of sources from where the identical text comes from.
Grammarly Plagiarism Checker: Drawbacks
Although Grammarly Plagiarism Checker is among the best tools, it has disadvantages. Before you start guessing the drawbacks by yourself, let's look at the list we curated.
Paid Feature
Unlike other Grammarly features for spelling and grammatical mistakes, the plagiarism checker is available only in the Premium version. You will have to purchase an expensive plan to access the tool.
Lags in Longer Pieces of Content
If you are editing long-form articles or content that is nearly or over 1,000 words, there is a high possibility of experiencing lags in Grammarly Plagiarism Checker. In such scenarios, you will be required to reload the page, wait for the tool to detect plagiarism, and in some cases, restart the browser as well.
Only Available in English
One of the major drawbacks of Grammarly Plagiarism Checker is that the tool is available only for content written in the English language. This means you cannot check for plagiarism or errors if you write in another language.
Grammarly Plagiarism Checker: Is it Reliable?
After understanding the working of the tool, its features, pros, and cons, it's time to find out if Grammarly Plagiarism Checker is reliable. Well, the tool comprises incredible capabilities for detecting plagiarism. Not only does it pinpoint piracy through its enormous database, but it also provides the user with a link to the initial source.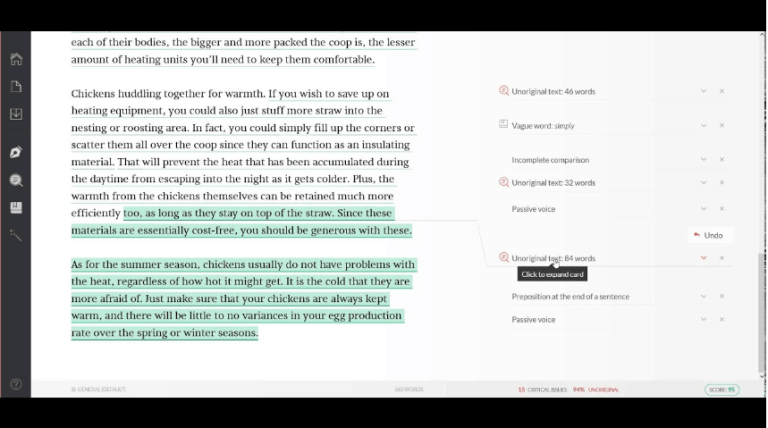 However, according to the website of Grammarly, the tool's results are not a hundred percent accurate. Further, similar to other software, Grammarly Plagiarism Checker cannot detect if the content has been written using a paraphrasing tool or manually.
Overall, if you are on a budget and need a grammar checker along with a plagiarism checker tool, Grammarly would be the ideal tool. It is suitable for students, working professionals, business owners, and more.
Can You Use Grammarly Plagiarism Checker for Free?
The free plan of Grammarly offers limited features, which include tone detection, conciseness, punctuation, spelling, and grammar. In order to use the software for detecting plagiarism, it is crucial to buy a plan. The pricing for these plans is stated in the table below.
| | | |
| --- | --- | --- |
| Plan | Starting at | Best for |
| Premium | $12 per month | Individuals |
| Business | $15 per month | Enterprises, Organizations, and Teams |
The Final Word! Grammarly Plagiarism Checker
Whether you are a writer focused on producing unique content for a blog, a teacher marking essays, or a student writing an assignment, scanning the work for plagiarism will save you time and prevent you from making foolish mistakes.
In this article, we discussed various aspects of the popular tool, Grammarly Plagiarism Checker, to help you understand the extent of its reliability. Like any other program, the tool has several pros and cons that you will sign up for when you decide to use it. Since the benefits outweigh its drawbacks, we recommend its use.
So, go ahead and try the Grammarly plagiarism checker tool to save time and money!
FAQs: Grammarly Plagiarism Checker
Does Grammarly correct plagiarism?
Grammarly Plagiarism Checker helps detect plagiarism against billions of web pages and academic papers. You can also find the original content source if your text turns out to be copied. However, Grammarly does not provide a feature for correcting plagiarism. 
Can you use Grammarly for university? 
Yes, the utilization of Grammarly is acceptable. Using a spellchecker is not thought of as cheating, but you should check with your university regarding the policy of plagiarism and cheating before using the tool. 
Is Grammarly as accurate as Turnitin?
In terms of plagiarism detection, Turnitin is more accurate than Grammarly. But if we look at the overall assistance of tools in writing, Grammarly is better, considering its features like spell checker and grammar checker.
Can I use only the plagiarism checker feature in Grammarly without paying for the entire tool?
Unfortunately, the plagiarism checker feature comes with the premium plan. You cannot purchase Grammarly plagiarism checkers separately. Instead, you will have to purchase the premium version.