In today's world, content has grown to become the king of the internet. Hence, plagiarism results in nothing less than you facing the consequences of performing a theft. Therefore, you should get your content checked by a plagiarism-checking platform that is best for the content you create.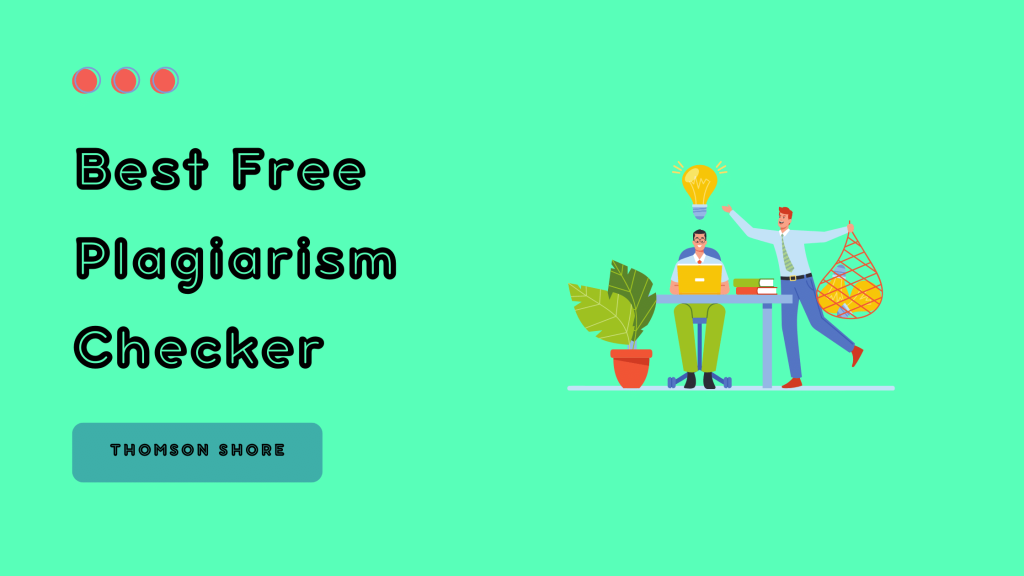 But is the abundance of online plagiarism checking platforms overwhelming and leaving you confused about which might be the right choice? If so, then worry not!
We have had various experiences with plagiarism checkers for years now. All these years, we have tried out hands-on multiple plagiarism checkers, and we understand how difficult it is to find the best and free tool in the market.
Therefore, in this article, we have hand-picked some of our best free plagiarism checkers based on our years of experience. By the end of this post, you will be able to decide which plagiarism checker is the best! So, let's get into the details below.
How to Choose the Right Plagiarism Checker for Yourself?
Plagiarism checkers are of various types; they vary due to their various features, be it their content handling capabilities or specific preference towards a certain type of content. Every plagiarism checker is known for providing certain features that show an inclination towards a certain work industry.
Therefore, to find the plagiarism checker for yourself, you need first to sort out some of your needs and wants from the platform. Some of these needs and wants are as below:
How much work do you handle every day?
Which platform do you know or have heard about from your colleagues?
How many language features do you want?
Do you want it to provide an integrated experience with other applications?
Most people ignore these little details while choosing a plagiarism checker, but if you get these answers right and start your search based on them, there's a high chance you can find the best plagiarism checker.
Other than that, there are some basic features that all plagiarism checkers share. While looking into a plagiarism checking service provider, do look out for these features:
Accurate plagiarism checks
User-friendly interface
Ability to handle a basic workload
One free trial or one trials-based plan
External citation provision
If the plagiarism checker you're looking into has all of these, it passes the basic test. All of the names that are going to be on the list, later on, are going to have all these stated features.
List of 7+ Best Free Plagiarism Checker
Now that you know how to pick the right plagiarism checker for yourself let us help you with some of our top picks to make your search easier!
1. Grammarly: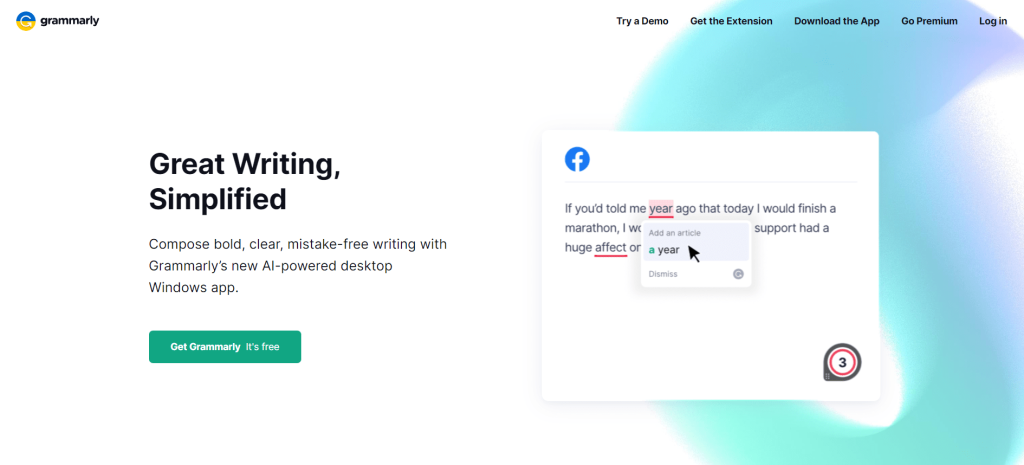 Grammarly is one of the most used platforms by content creators for editing. However, it also provides the feature of plagiarism checking. Its algorithm scans your content through numerous websites and gets an accurate plagiarism result so that you can have peace of mind that your content is 1005 unique!
Features:
Searching the required content in batches
Alerts you of the text that seems to be copied from another web page
Checks your content against eight billion web pages to ensure your content is original
It lets you know the percentage of your content that is plagiarized
Provides a calculation for your content's originality
Keeps your content secure and safe
Provides external links to the web pages from where your content matches
2. ProWritingAid:

ProWritingAid is a platform more inclined towards serving academic and web writers. When you put your content in it, it checks against a non-countable number of academic papers, web pages, and published workpieces to ensure that your content is unique. To use ProWritingAid, you can run the plagiarism report online or use its add-on extension on your computer.
Features:
You can do self-edits
It has an easy-to-use interface
You get to have more than 20 in-depth writing reports
It can be integrated with various platforms, such as Word, Chrome, Google Docs, Gmail, etc.
Provides support to a large set of files
It helps in finding any work that can be related to data, wording, question, ideas, etc.
Ability to maintain a governorship over your word usage
3. Quetext: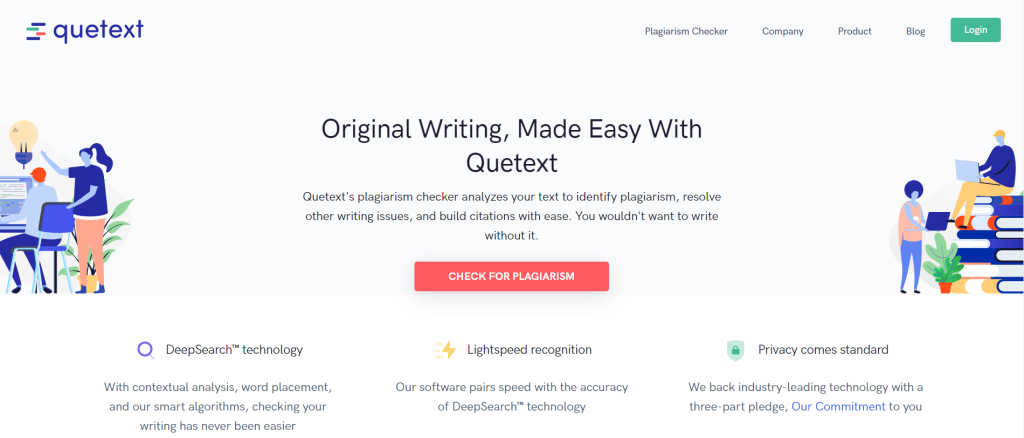 Quetext has become one of the best plagiarism checkers in recent years due to its excellent use of word placement and algorithm that masters in identifying copied content. This platform takes your content and matches it with the various web pages, online textbooks, news sources, citation generators, and some more sources to provide you with the correct report.
Features:
Its plagiarism score is comprehensive
Provides a good environment for the new users
A single click is enough to initiate a plagiarism check
Identifies and correspondingly colors the copied content
Keeps your data private and secure
4. CopyScape: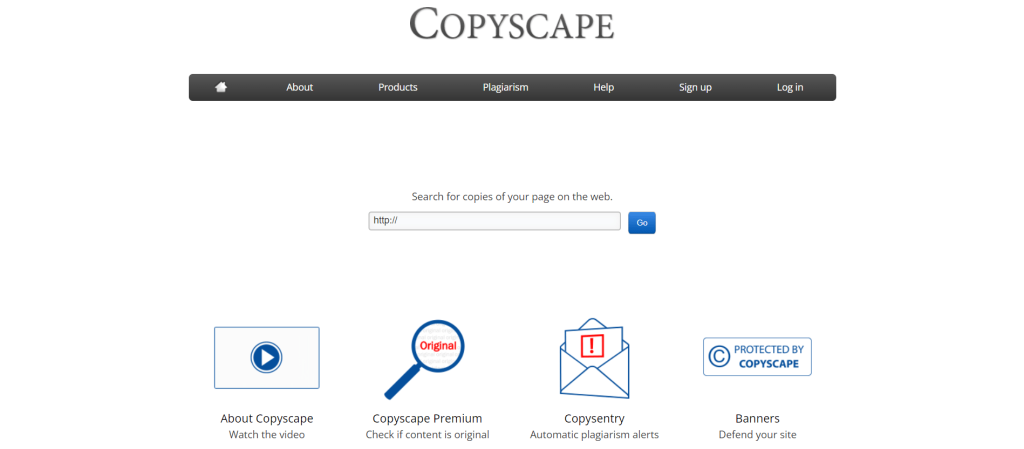 CopyScape is a complete cloud-based service-providing company. With the tool, you can run a plagiarism report on your content. All you need to do is type the URL of the content and then click on Go. It is a great option when it comes to the list of plagiarism checkers that allow you to perform infinite scans for web pages. However, you will have to add credits (money) into your account. But, wait! CopyScape is extremely affordable, even if you are a student!
Features:
Allows searching the content in batch
Provides case management and track facility
It offers a user-friendly environment
Allows you to compare two content pieces side-by-side
It supports offline content indexing as well
5. Scribbr: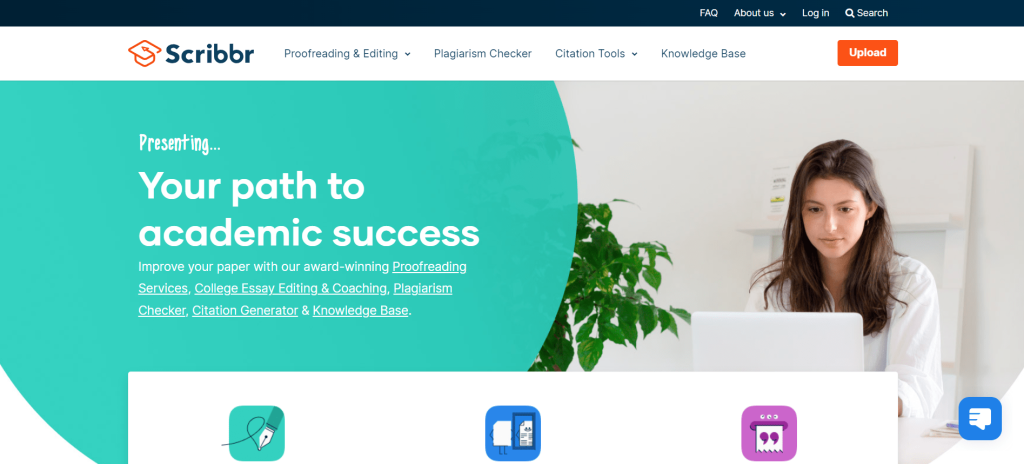 Scribbr is another plagiarism checking tool known for doing a stellar job. It is in partnership with Turnitin, which helps it detect things such as phrase matches and precise words. When you put your content on Scribbr for plagiarism check, it matches it with 91 billion and 69 million publications.
Features:
It consists of a huge content database
Provides citation checking ability
Can handle external sources
Manages small projects with ease
Provides APA citation generator and checker
6. Unicheck: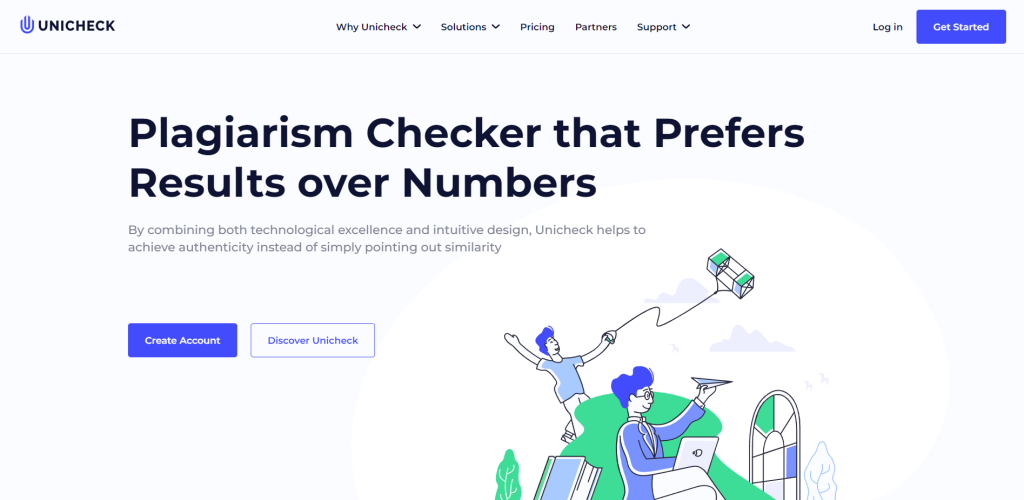 Unicheck is one of the plagiarism checkers that help you make sure that your content becomes completely authentic. It supports bulk loads and numerous file formals and provides a detailed plagiarism report of your content. Unicheck provides a report after comparing your content with a number of web pages, educational databases, and institutional library files.
Features:
Notifies about suspicious content
Calculates the plagiarism score in the current time
Provides modification abilities in its search settings
Offers a processing system for bulk data
Provides add-on to Google Docs
It can be used as an extension on Google Chrome
7. Plagscan: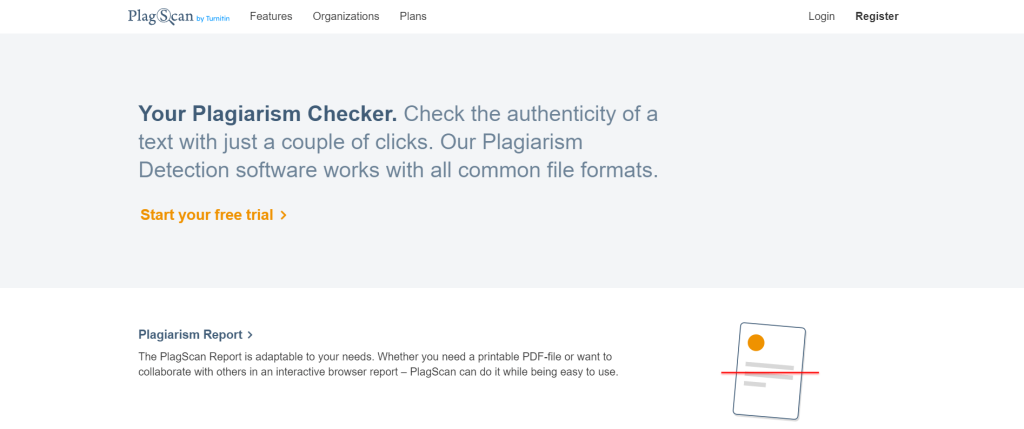 Plagscan is a great option among other plagiarism checkers. It provides you with the percentage of the text of your content that matches with another web page. The platform also provides an easily analyzable report in Word or PDF format. With Plagscan, you can also collaborate with your friends and even whitelist the source you seem to take an interest in.
Features:
The document highlights all the matches, including internal and web resources.
You can work offline with it
Its plagiarism reports are shareable
Provides the ability to compare documents with matched sources
Uploading a document from your cloud drive, computer, etc. is possible
You can share or delete your documents with it
Related Read:
Conclusion:
Plagiarism checkers are essential software pieces. They help you ensure that your content is not imitating or copying others' content. You can easily find the right plagiarism checker by sorting out your needs and wants properly.
Choosing one of the seven plagiarism checkers mentioned above will ensure you get 100% original content. If you are overwhelmed with the options and need quick suggestions, we recommend trying Grammarly or ProWritingAid, as both these tools can be your one-stop solution for all your writing needs!
We hope our list of best free plagiarism checkers helped in picking the right tool according to your needs. So, which tool are you choosing from the list above? Let us know in the comments section below!