Are you looking for a comparison between the two incredible Grammar Checking Platforms viz ProWritingAid and Grammarly? You are at the right place. Here in this comprehensive article, we will be comparing both these platforms on various parameters so that you can make a well-informed decision and choose the one that will work the best for you.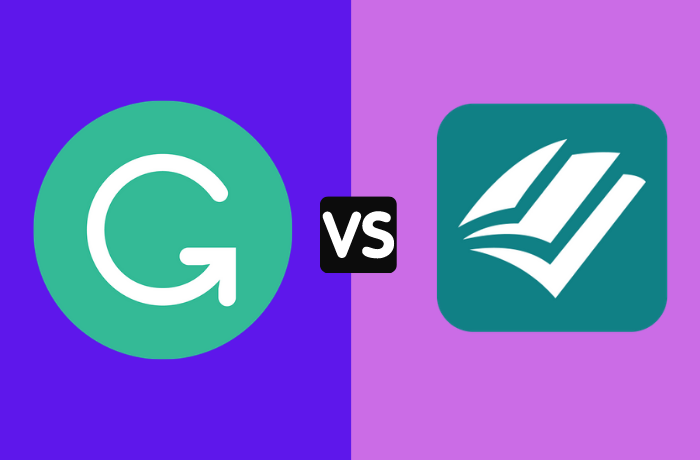 As we all know, it isn't possible to be correct every time you are writing an article in English. From native speakers to non-native ones, everyone tends to make some writing mistakes, whether it be in basic grammar rules or the writing style.
Poor writing skills can adversely affect your professionalism. This is where online Grammar checker tools come into the picture. These tools check your text for grammar and spelling rules and then likewise suggest the fixes for the errors in what you have written.
Grammarly vs ProWritingAid – Overview
Here we are comparing the two top-tier grammar checkers, viz Grammarly and ProWritingAid. But before we get started, let us know a bit more about both these platforms.
1. Grammarly Overview
With Grammarly, you can correct all your grammatical errors with comprehensive feedback on the fixes they offer for your written material. This tool can be used to proofread your content and check for grammatical and spelling mistakes in emails, blogs, articles, and other written material.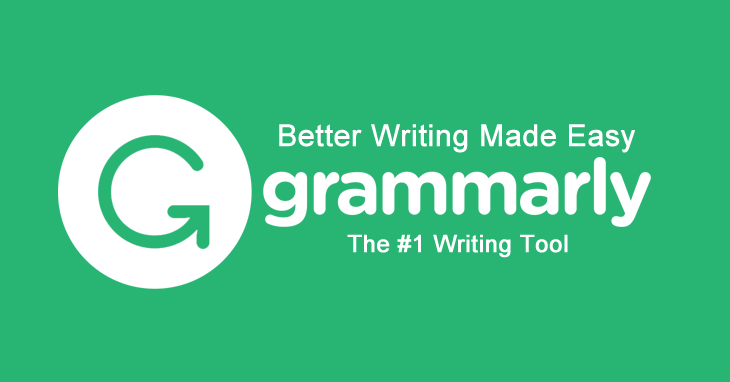 Not just that, Grammarly can also spot the mistakes in the structure of sentences and the misused words. It then suggests the fixes on grammar, punctuation, and spelling errors and the changes you should be making in the statement style so that what you write follows the grammatical norms- all of this in real-time.
The platform lets you add new words to the personal dictionary. It enables you to opt for the desired English dialect, and you can check the written content for various genres.
2. ProWritingAid Overview
ProWritingAid is both a grammar checker and a style editor for writers, content creators, and anyone with writing as an integral part of their daily life. With this platform, you can easily remove the errors, optimize the choice of works, and edit grammar and punctuation.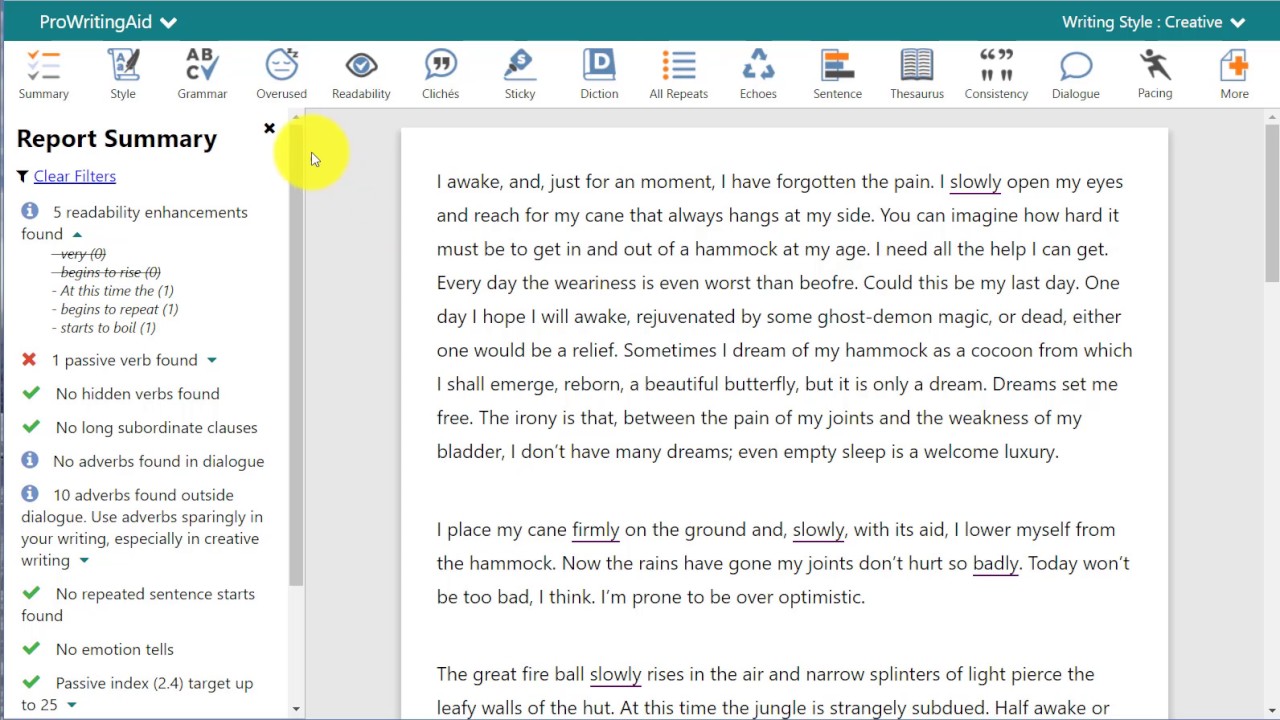 Here you get an in-depth report on how you can improve the writing. You can use this platform as integration with Google Docs, Gmail, and WordPress. The platform also offers quizzes, videos, in-app articles, and explanations to help you improve the writing skills.
Now that we know about both these platforms, briefly let us get down to comparing both these platforms. For ease of understanding, we will be giving a verdict after comparison on each parameter. This way, you will have a clear understanding of which platform to choose according to your need.
Grammarly vs ProWritingAid – Plagiarism Checker
A plagiarism checker helps find those areas of the content where you have used someone's thoughts, ideas, or words. 
1. Grammarly
It is pretty easy to run the plagiarism check on Grammarly. By simply clicking on the tool's plagiarism button, you can compare the content you have written to various web pages and academic papers. It can also check the private databases for the sentence and paragraphs that are published online. Grammarly will flag the texts that require citations. You also get the links of the sources from where the texts are matching.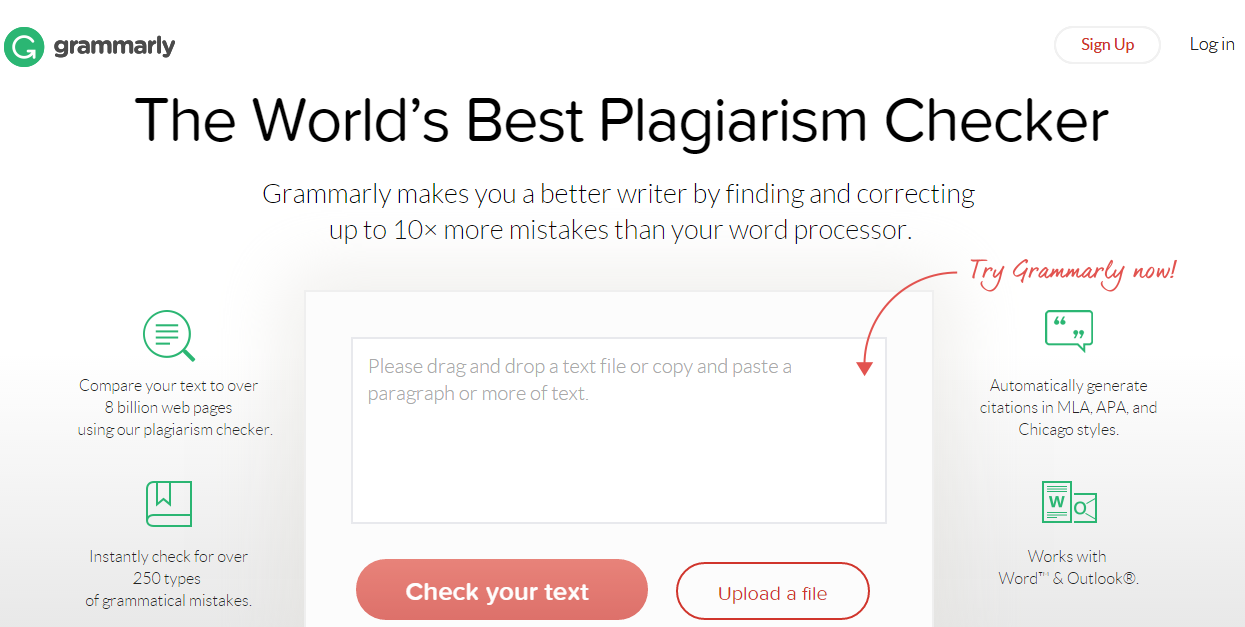 What is more, you also get the originality score for the content. Grammarly provides citation data for referencing in three formats, viz MLA, APA, and Chicago Manual of Style. On their suggestion card, you get the corresponding links to redirect automatically to the online sources.
2. ProWritingAid
ProWritingAid plagiarism checker can check the written content with billions of online pages and published works. You can run the check as both the online editor and Microsoft work addon. Your content gets checked for both online and offline sources.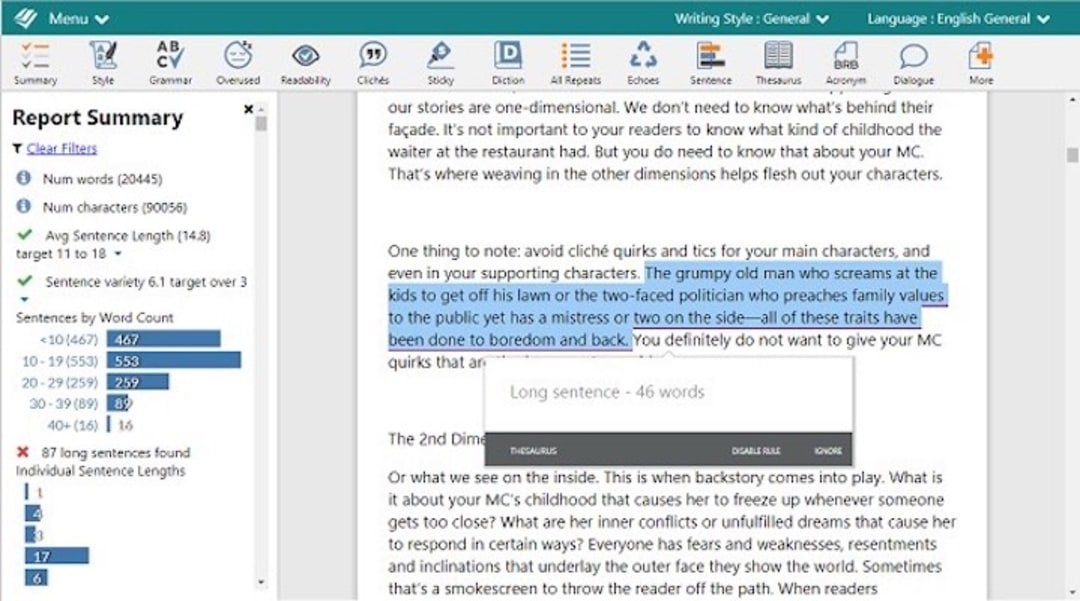 All those parts are highlighted that represent the work of someone else. You also get to see the similarity percentage, which helps you understand the places where paraphrasing is needed. 
Our Verdict
In this parameter, both tools are equally useful.
Grammarly vs ProWritingAid – Grammar Checker
For your content to look right, it is essential to find and fix the grammatical errors. This way, the content becomes much more precise and readable, and you can create a great impression on the readers. 
1. Grammarly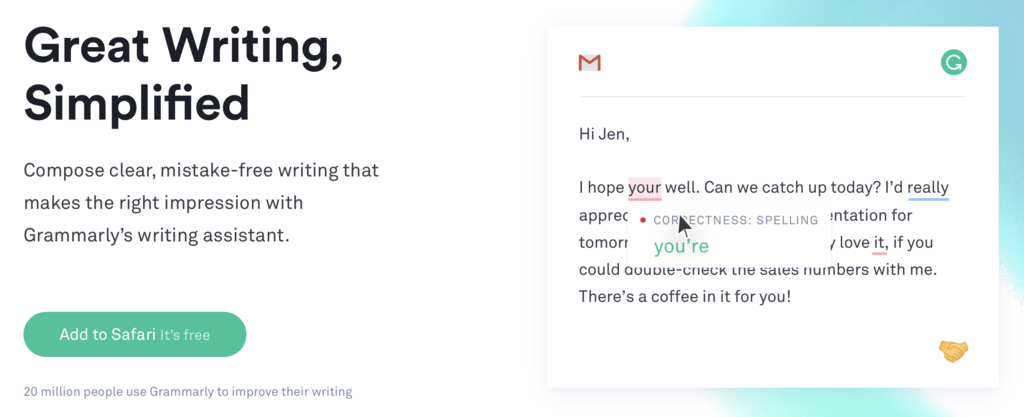 This platform has a pretty sophisticated Artificial Intelligence that can correct all your grammatical mistakes making your content look professional. Grammarly checks the content for misused phrases, structural issues, and various errors that can affect the text. Not only that, you can very well apply the fixes that are suggested for making your work polished as well as error-free. 
2. ProWritingAid
ProWritingAid also uses Artificial Intelligence to identify the grammatical issues that will improve the style and the strength of what you write.
Our Verdict
Once again, both the tools are equally useful in the comparison.
Grammarly vs ProWritingAid – Spelling Checker
You might end up missing those tiny errors in spellings. 
1. Grammarly Spelling Checker
Grammarly can spot various spelling errors as well as the spaces that you miss after the period. You also get multiple alternatives for the words that are misspelled.
2. ProWritingAid Spelling Checker
ProWritingAid can help you in highlighting the words that are misspelled. The replacement for these words is suggested too.
Our Verdict
Both these platforms win in this parameter.
Grammarly VS ProWritingAid – Finding Repetitive Words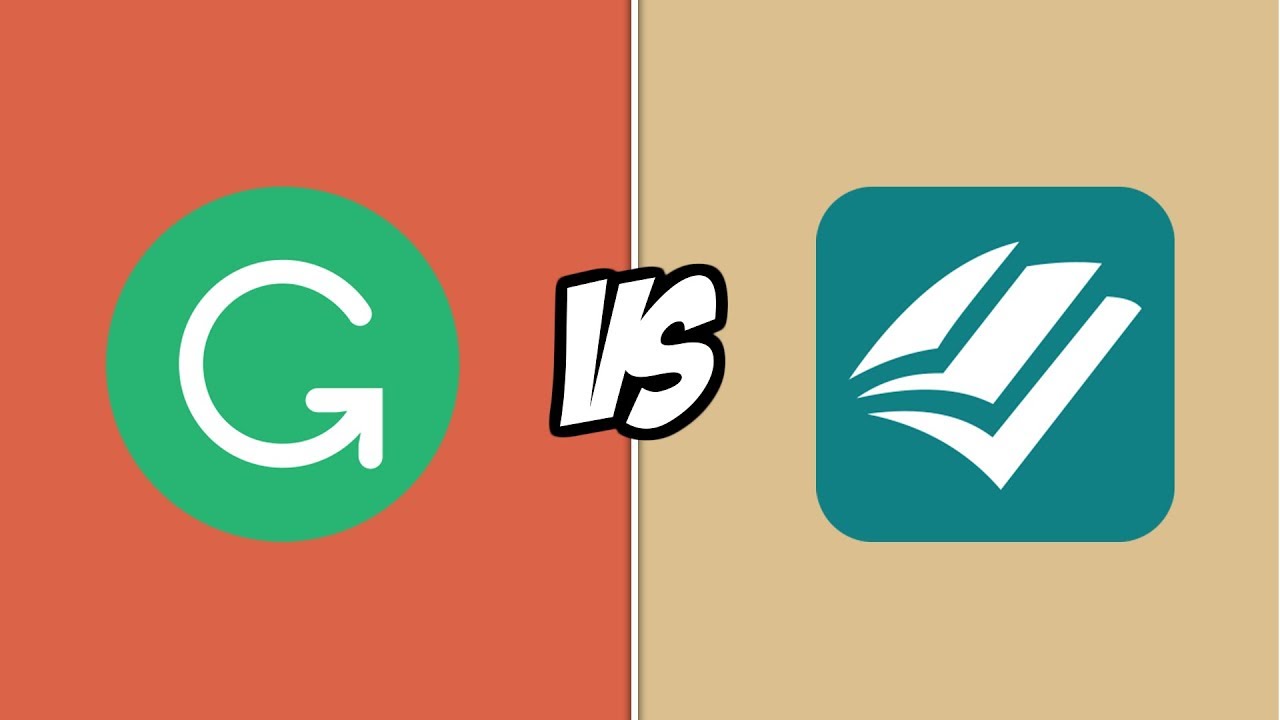 To make the text concise and have a more significant impact on the target audience, it is imperative to remove the repetitive words.
1. Grammarly
The platform lets you remove or replace repetitive words. 
2. ProWritingAid
With the ProWritingAid, you can find the repeated words in the text; it also sees the sentences with repeated starts and if they are in the same para or not.
Our Verdict
Here ProWritingAid has the edge over Grammarly as it can pick up the sentences with repeated starts.
Grammarly vs ProWritingAid – Writing Reports
The reports about your text will help you figure out if the content requires any improvement.
1. Grammarly
Grammarly offers various performance reports that will help you figure out how easy your text is for the readers. Its readability score tool has a goal of 60 or higher. Here 60 represents an average level of reading of a 13-year-old American. It also provides Text Scores, which lets you measure the text on a scale of 1 to 100. The score is based on how many various types of suggestions were offered in the text and how they can be compared to other texts with the same goals—the greater the score, the lesser the tool's recommendations.
Grammarly also offers the Vocabulary section, which depends upon the unique and rare words used in the text. It represents the number of different words that you used in a particular text as compared to others. On the other hand, rare words represent the percentage of words in the text that aren't commonly used. The score is pretty helpful if you wish to have more variety in the text. That's not all; Grammarly also offers a word count section that includes reading length, number of sentences, and the speaking time of the text. 
2. ProWritingAid
The platform checks the text and points out the fixes. With this, you can have access to the reports focussing on the particular parts of the text. Their detailed reports can point out more such areas that will help you in improving your writing. Their style report can fix the readability that includes repeated starts of the sentences, emotional tells, and overused words. It also highlights those sentences that are potentially tough to understand.
Our Verdict
Grammarly wins in this comparison as it offers much more metrics for analyzing the text.
Grammarly vs ProWritingAid – Tone Detector
This lets you make sure that how the text sounds are right for the potential audience. 
1. Grammarly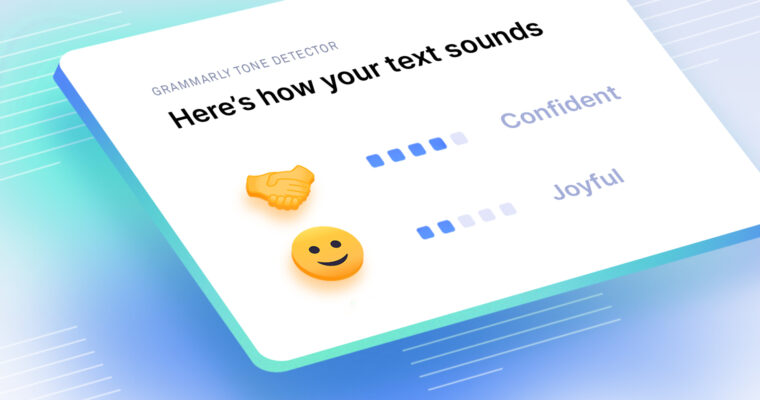 With Grammarly, you can choose the desired tone ranging from friendly, formal to concerned. It analyzes word choice, phrasing, punctuation, and capitalization for identifying the tone of the content. With their suggestion, you can make your text polished, engaging, professional, and more transparent.
2. ProWritingAid
They do not offer this feature.
Our Verdict
Grammarly wins it.
Grammarly vs ProWritingAid – Plugins And Integrations
With the plugins and integrations, you can edit just where you are writing. This saves a lot of your effort and time. 
1. Grammarly Plugins And Integrations
Grammarly can integrate with various platforms, emails, and websites. It can very well integrate with the browsers like Safari, Firefox, and Edge. You can also download it on the desktop for MS Word. It doesn't integrate with any other desktop apps apart from MS Word and Outlook. Its extension is available for apps with web versions like Slack.
2. ProWritingAid Plugins And Integrations
Here you get an online editor, browser extension, and the desktop version that can be downloaded. It is available for Firefox, Safari, and Microsoft. It can integrate directly with the Word Processors but only on a Windows Computer. For a Mac computer, you have to download the desktop app. You can also open the Scrivener Projects and retain the formatting. ProWritingAid can work with other formats like Open Office, Rich Text, HTML, and Markdown.
Our Verdict
Both the tools win this parameter.
Grammarly vs ProWritingAid – User Interface
A useful tool should be user-friendly so that you can take complete advantage of the features.
1. Grammarly User Interface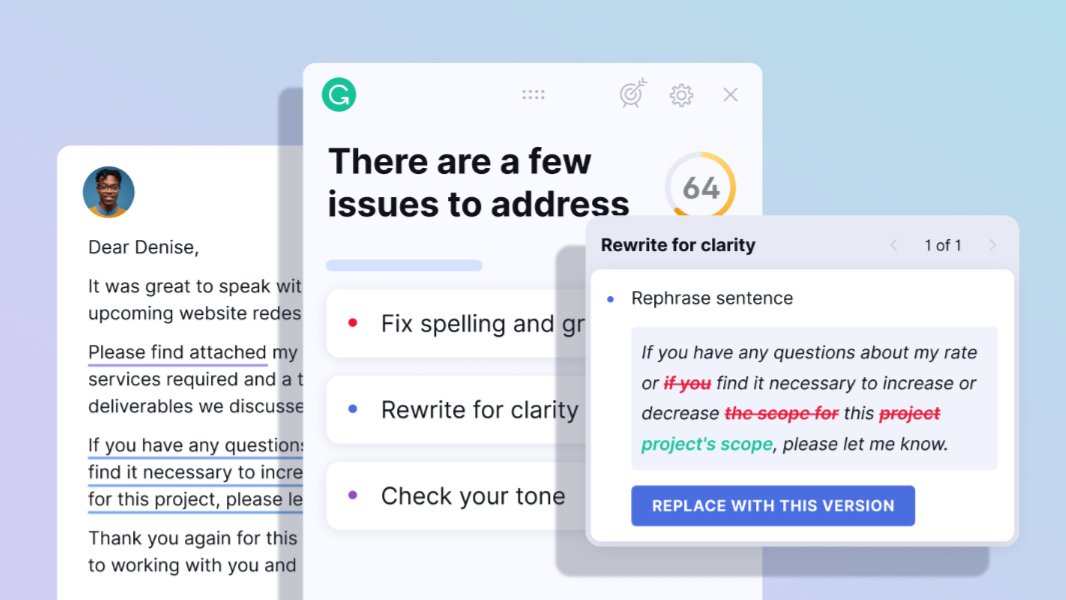 The tool has a clean editor where you can copy and paste the content or even upload your file directly. Grammarly spots these errors and breaks them into various categories. You can click these errors and check the suggestions. 
2. ProWritingAid User Interface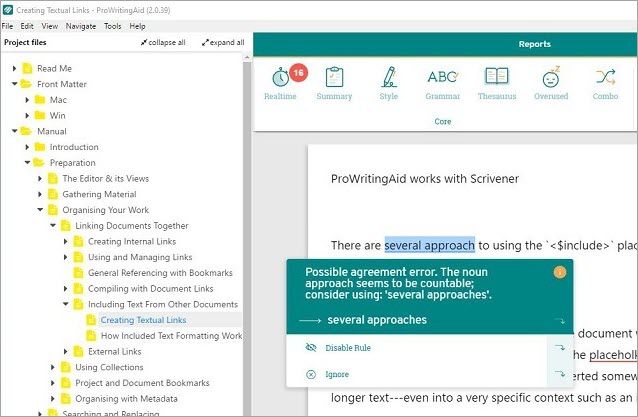 The process of corrections can be a bit tricky. The errors are pointed on the left side. You have to click on the small arrow and then hover on the text lines to see the suggestions.
Our Verdict
Grammarly wins the round as it has a much easier interface.
Grammarly vs ProWritingAid – Customer Support And Service
Whenever you face issues, customer support becomes necessary.
1. Grammarly Customer Support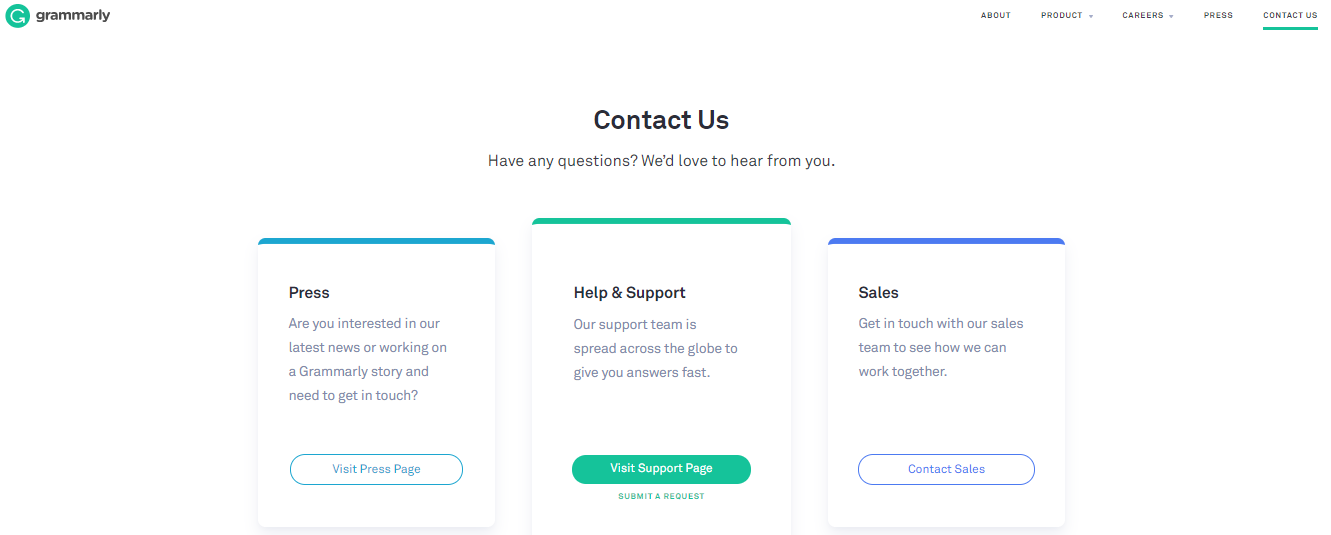 They support customer support through email and via the help center with their various articles.
2. ProWritingAid Customer Support
The platform provides support through a contact form with which the team of customer support gets in touch. They have a section dedicated to the FAQ on various topics.
Our Verdict
Grammarly wins this comparison as it has an abundance of helpful resources along with email support.
Grammarly vs ProWritingAid – Pricing
Grammarly Price: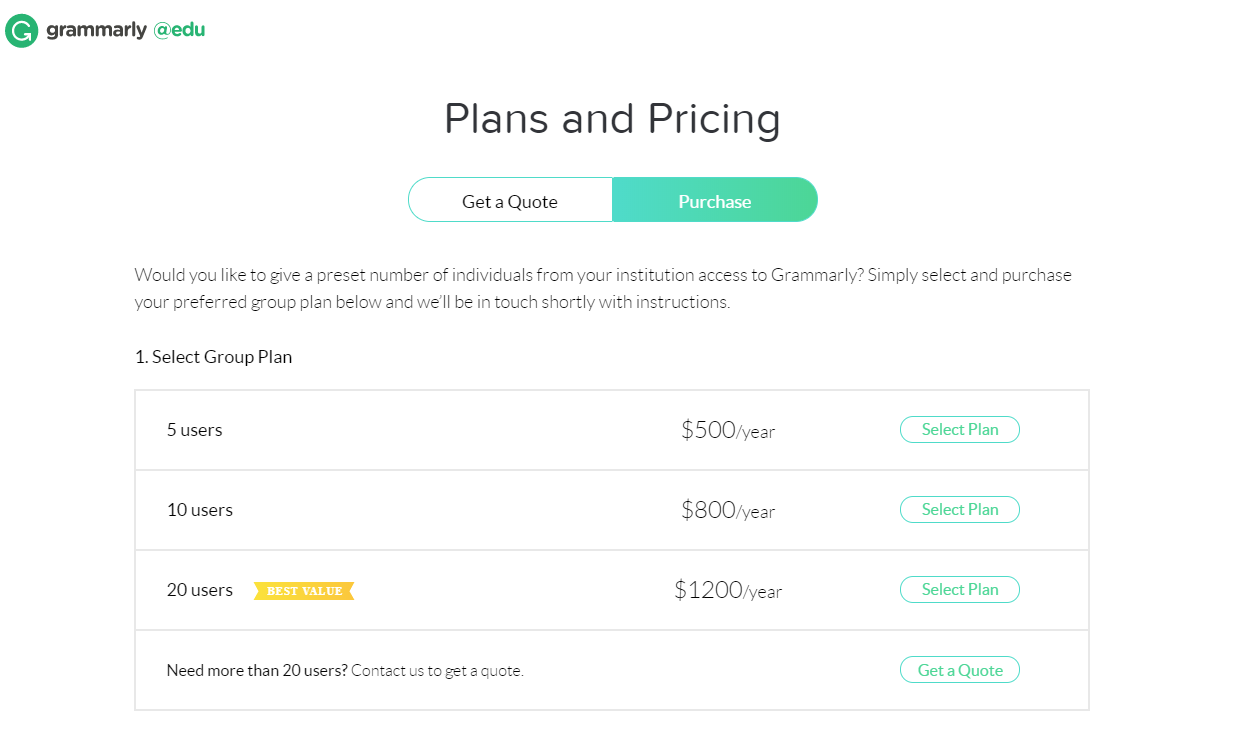 Grammarly has three pricing options to offer viz. Free, Premium, and Business Plans.
In their free trial, Grammarly offers basic suggestions on writing.

In their Premium plan, Grammarly offers basic suggestions on writing; you also get corrections regarding style, clarity, and many other advanced things. It starts from $11.66 per month.

In their Business plan, Grammarly offers clear and professional communication for a team that ranges from 3 to 149 people. It starts from $12.50 per member per month.
ProWritingAid Price:

ProWritingAid has two categories of pricing plans:
ProWritingAid Premium:
The Monthly Subscription costs $20.

The Yearly Subscription costs $79.

The Lifetime Subscription costs $399.
There isn't any limit on the word count in all these plans, and you get a writer's resource library. You can edit right where you are writing with 100 percent privacy. 
ProWritingAid Premium Plus:
The Monthly Subscription costs $24.

The Yearly Subscription costs $89.

The Lifetime Subscription costs $499.
In the premium plus plans, you get everything like the premium plans. Also, you get 60 plagiarism checks every year to check your work through billions of web-pages and avoid plagiarism of any kind.
Frequently Asked Questions
Q1. Is Grammarly available for Mobile Devices?
Ans: Grammarly is available for mobile devices but with limited functionalities. You cannot correct a complete article with Grammarly on mobile devices.
Q2.Is there any discount available when buying the ProWritingAid subscription?
Ans: There are various discounts and coupons available when you buy a ProWritingAid subscription. You can find them as promotional offers or festive offers by ProWritingAid itself. 
Q3. How many devices can access the same Grammarly account?
Ans: You can use the same account on five different devices at once.
Conclusion:
Both the tools have incredible features, but definitely, Grammarly wins this battle. The tool can highlight the errors within a few seconds of pasting content in the editor. It also identifies spelling and grammatical errors. All in all, it is an excellent tool with characteristics like a plagiarism checker that can proofread the content.