Whether working as a copywriter in an ad agency, a content writer in an SEO company, or even a blogger, you always aim to create unique, high-quality content. Of course, you always aim to create a piece of content that is error-free, polished, and able to attract the reader's attention quickly.
As we all know, manual correction and fine-tuning the articles take ample time. This is where you should consider using AI writing software. Such writing tools can help you create quality content in a very short amount of time. 
It hasn't been long since AI writing tools have taken over the writing arena, but the growth and acceptance of such tools have been remarkable.
Well, over 20 writing tools are available on the market, offering different features and helping writers from various fields. So the important question is, which one is right for you? Let's try to analyze and find out. 
AI Writing Software: Definition And Use
AI writing software is a service tool that uses artificial intelligence and machine learning to help writers create natural yet effective content. The software uses various algorithms and natural language processing to speed up writing, editing, and correction.
These platforms provide various functionalities such as grammar correction, sentence building, synonym suggestions, etc. However, such editing work may take long hours if you are doing it manually.
But the AI software can save a lot of your time by doing all this post-writing work such as spelling error correction, punctuation check, plagiarism detection, etc.
Some advanced tools can also help with the nature of the content, such as its tone, formality level, readability, and fluency.
The tools can also help create material suitable to your purpose by highlighting the words which can be replaced and the part of the sentence that needs to be omitted.
To succeed in writing, you must create unique and easy-to-read content while keeping the readers engaged.
No matter how much of a great writer you are, mistakes are bound to happen, and there is always room for improvement. For example, an AI writing tool may come in handy to elevate your writing.
List Of 8 Best AI Writing Software In 2023
To make it easy for you to pick the best writing tool, I've compiled a few of the best tools floating around these days. All these tools belong to a different price segment and target a specific class of writers. Let's analyze each of them and try to figure out the following:
| | | |
| --- | --- | --- |
| Tool | Key Features | Pricing |
| Jsper.AI | SEO content writing, blog posts, social media  | $39/month |
| Copy.AI | Long-form content, blog posts, ads | $49/month |
| Rytr | Long-form writing, outlining, rewriting | $9/month |
| Grammarly  | Grammar checking, spelling, plagiarism | Free – $12/month |
| INK | Writing assistant improves clarity | $49/month |
| Longshot AI | Unique rewriting, paraphrasing | $19/month |
| ChatGPT | Conversational AI, Q&A interaction | Free |
| Bard | Conversational AI, knowledge exploration | Free |
1. Jasper.AI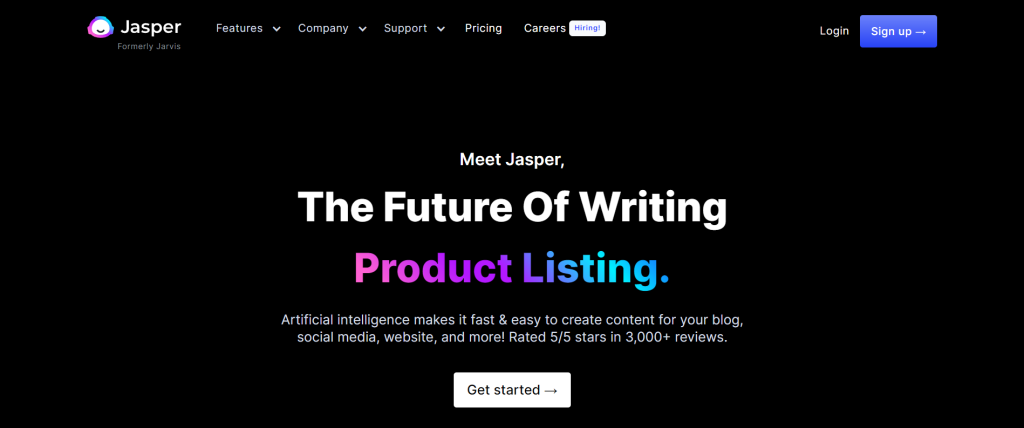 The first one on the list is the best – Jasper. It is the best writing tool you can get for all-around performance. You can write personalized content such as blog posts, marketing articles, or even a poem with Jasper. It helps you rapidly modify your content based on your writing style.
Characteristics:
The advanced AI examines your sentences, analyses the key points, and replaces them with the perfect alternatives from its wide database with millions of synonyms and sentences. You only need to type your sentence in your words, and Jasper works on punctuation, spelling, and other grammatical aspects. As a result, you are presented with a unique and stylized piece of content.
Key Features:
Let's have a look at some of the key elements of Jasper:

Supports translation for over 25 languages
It offers thousands of fonts and various writing styles to match your content's nature perfectly.
It provides templates such as content ideas, creative stories, readability, well-written bullet points, unique value propositions, etc.
A support team is always there to help you with any query.
A huge database of synonyms, prewritten phrases, and sentences make your content attractive and easy to understand.
It helps you with different types of writing, such as business documents, creative articles, headlines, or even poetry.
It supports basic editing features such as lookup, find and replace, etc.
Pricing Information:
Jasper offers 2 plans – Creator and Team
Starting at $39 monthly, the Creator plan has an unlimited multi-user login facility suitable for short projects. The plan allows you to access over 50 writing skill sets, such as headlines, creative writing, business articles, blogs, and more. In addition, you get the unlimited words per month limit in this plan.
Team plan is aimed at long-form projects such as blogs, spun articles, etc. The plan costs you $59 per month and gives you unlimited access to all Jasper premium features and unlimited words a month limit.
2. Copy.AI

Copy AI is a well-known writing tool, especially for marketing-related documents. The tool is designed to create attractive and engaging content yet effective enough to draw readers' attention. It's a beginner-friendly platform with a simplified user interface that you can use without technical expertise.
Characteristics:
To help you with your writing, various templates are available. If you are having a difficult time writing, you can choose the type of copy you want to write and describe the product with a few details, and you are presented with several templates that you can reference and begin your writing.
Copy AI is perfect for social media articles, sales-related documents, advertisements, and blog posts. Furthermore, you can also hone your writing skills with different writing prompts available on the platform.
Key Features:
Here are some of the important features of Copy Ai
Perfect for generating ideas for your blog content
Supports over 25 international languages, including Brazilian, Japanese, and Chinese.
Preloaded templates work like a charm to get better content ideas and highly precise written material.
Works well for digital advertisements, headlines, and other marketing-related documents.
Extremely easy to learn, thanks to a user-friendly interface
Pricing Information:
Copy AI allows an unlimited free plan to test the software before you purchase the paid plans. It allows you to use over 90 copywriting tools and 25+ languages support.
The Pro plan costs you $49/month, $439 for the whole year, and will give you access to all the premium tools. The plan is suitable for small businesses.
You can also get a custom plan built for your requirements if you own a large business with multiple teams working on it. In addition, the plan provides you with collaboration features and access to the premium community.
3. Rytr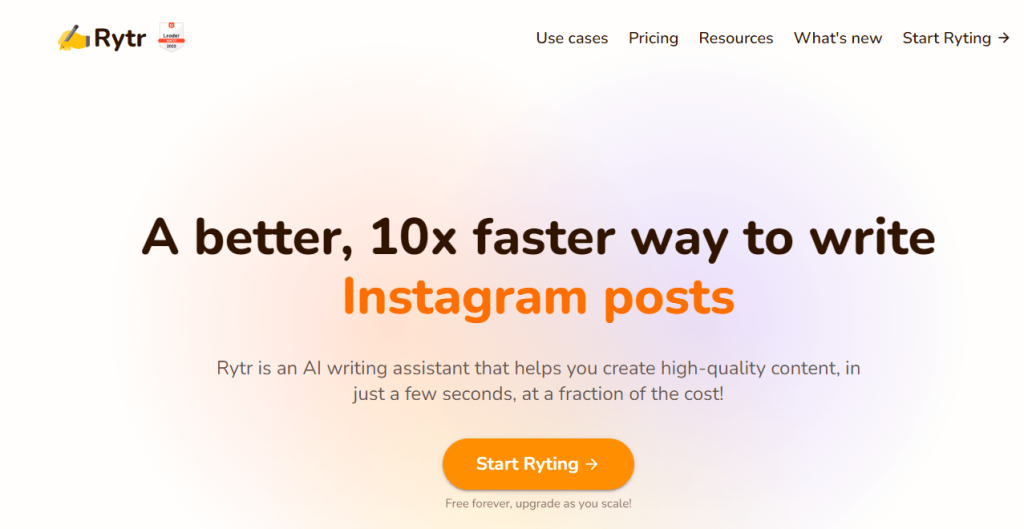 Rytr is a popular content generator known for its unique framework. Writers trust it from some of the world's most popular organizations, such as Dell, Ford, and Adidas. RYTR can be used to create landing pages, product descriptions, blog posts, and advertisement material.
Characteristics:
Rytr features 2 frameworks called AIDA and PAS. AIDA stands for Attention, Interest, Desire, Action, and PSA for Problem, Agitate, and Solution. It only takes 4 easy steps to create high-quality content using any of these. All you need to do is select your language and tone, then choose a copywriting framework.
At last, you need to write a short input about your product. Within a few seconds, Rytr creates well-written material for you. You can get more variants of your input.
Rytr allows you to customize your content heavily, thanks to its powerful AI. It can help you expand some of the content by rewriting certain sections differently or making them shorter by omitting unnecessary words or phrases.
Also, you can get as many variants as you want until you find the one that suits your writing style perfectly. 
Key Features:
Here are some vital features offered by the Rytr AI tool:
Variety of specialized templates suitable for various types of writing such as bio, product description, sales ad, etc
Easy editing and formatting, such as expanding, shortening, and rewording the sentences
AIDA and PAS copywriting frameworks for accurate content ideas with minimum efforts
It helps you generate quality content for your sales ads with the help of very few inputs
It can be integrated with various word-processing apps, social media platforms, and email websites
Over 20 different tones to create specialized content.
Pricing Information:
Rytr comes in 3 plans – Free, Saver, and Unlimited. The free plan allows you to create 5000 characters per month. This is a good plan to get a feel of the tools. The Saver plan starts at $9/month and bumps the character limit up to 50,000 per month.
The Unlimited plan will cost you $29/month with the freedom to generate unlimited characters. In addition, If you buy a yearly subscription, Saver and Unlimited plans give you 2 months of free access.  
4. Grammarly
Note: Check out our detailed Grammarly Review here.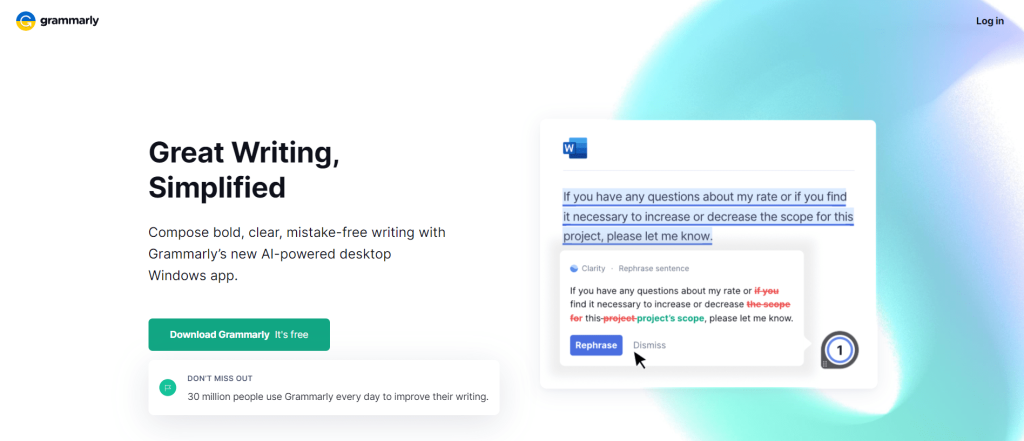 Starting in 2009, Grammarly has been the fastest-growing AI writing assistant. The tool uses its powerful AI resources to enhance your overall writing. No matter what you write, check your material through Grammarly and be assured your content will be transformed into near-perfect quickly.
Characteristics:
The main purpose of Grammarly is to help you write error-free, concise, and effective content. You can copy and paste your entire document on Grammarly, and it highlights grammatical errors and spelling mistakes that you can correct within a few seconds.
It also provides key information about your content performance, such as readability, word count, and vocabulary. You can also choose the parameters such as type of audience, formality level, writing domain, and intent. Finally, based on your preferences, Grammarly suggests several changes to make your article clearer and more precise.
Key Features:
Here are some additional features bundled with Grammarly:
Works smoothly with all the websites and word processors, thanks to a google chrome web plug-in
Enhances the entire writing with grammatical suggestions such as synonyms, phrases, etc
Supports multi-language
Suggests synonyms for any word on various websites.
Supports mobile applications on Android and iOS platforms. 
Pricing Information:
Note: Check out our Grammarly Premium Free trial here.
Grammarly offers 3 plans – Free, Premium, and Business. The free plan provides basic corrections and suggestions and is suitable for individual writers and students.
The premium plan starts at $12/month and lets you access additional features such as plagiarism checking and styling, tonality, and other clarity enhancements.
For example, if you are a team of over 100 people, you can choose a Business plan. It will cost you $15 per user, and you can access some dedicated admin panels and priority email support.
5. INK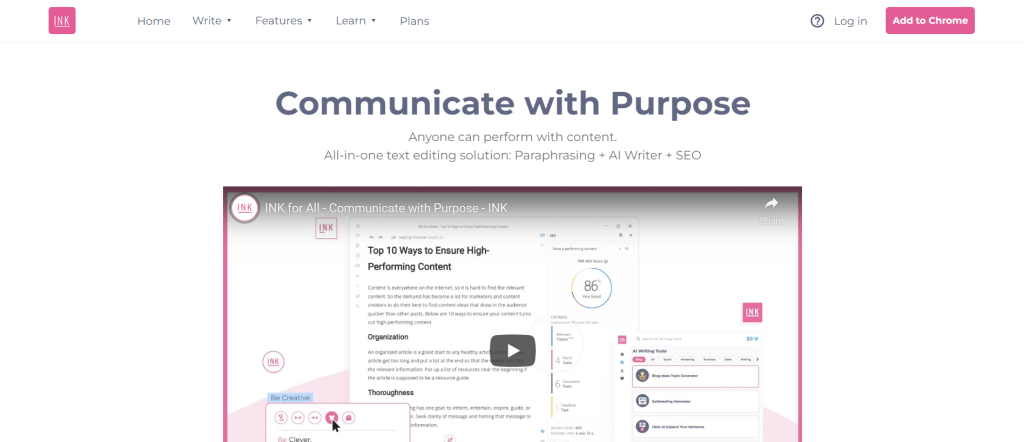 INK editor is targeted toward SEO-related content writing. Using its powerful AI and SEO assistant, the tool can customize your articles so that you are left with a finely drafted and articulate piece of writing.
In addition, INK helps you rewrite your articles in an error-free and unique fashion that can help you increase your ranking on search engines.
Characteristics:
INK comes in handy when writing SEO-based articles to generate organic traffic. The tool constantly shows your SEO score as you write to keep you updated on the quality of your content. It also provides important information such as meta suggestions, optimum length, and title recommendations to elevate your article's overall standard.
The tool also helps you expand or shorten your article based on your target word count. Additionally, an AI Co-writing feature helps you create high-quality marketing copies.
Key Features:
Here is a list of some important features that the INK editor offers:
Comes with AI-Writing, AI-Simplifying, and AI-Expanding assistants to perfectly draft your articles
Works perfectly with WordPress and Google Docs.
It comes with a Google Chrome web extension
Comes with Accessibility modes for colorblind or dyslexic writers
Suitable for SEO-oriented writings such as product articles, blog posts, forums posts, etc
Pricing Information:
INK has a free plan for life that allows you to write 22 sentences/day with the help of 50+ copywriting tools. The Professional plan costs $49/month and lets you access all the premium editing and formatting tools and the google chrome extension.
The Enterprise plan costs $119/month with SEO writing assistance, SEO score, and keywords. A Team SEO Unlimited plan will cost you $177/month and support 3 user login and team management facilities.
6. LONGSHOT AI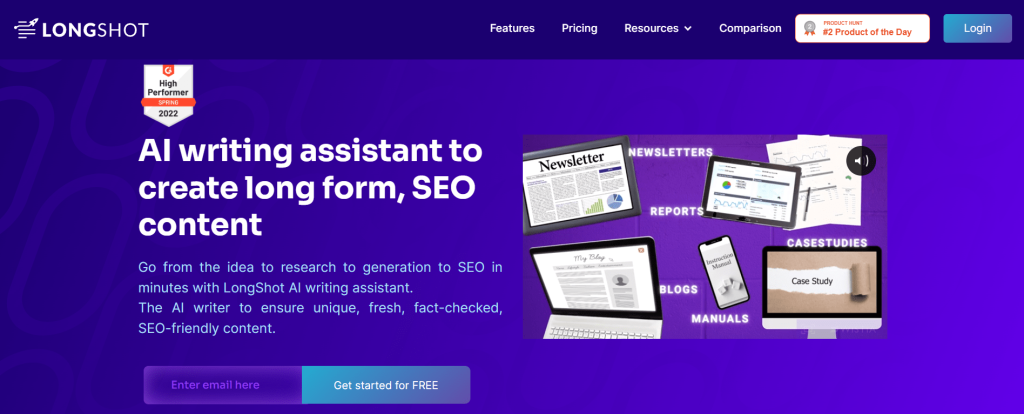 LongShot AI is also one of our list's best AI writing tools. Writing quality content is essential to your company's growth but takes time. After much effort, you still need to figure out the value of your material. 
So, LongShot AI is the best solution to produce blog content so that you can boost your sale. It helps you to generate high-converting blog posts within a second. So, LongShot AI is the best option for writers to get long-form content. 
Characteristics: 
LongShot AI is a content-generating platform that uses artificial intelligence to automate the process of content creation. It ensures AI writers get fresh, unique, and fact-checked SEO-friendly content. 
It helps you suggest the relevant keyword and subheadings to generate content. 
Key Features:
Let's have a look at the features offered by LongShot AI:
Generate Long Form content
Product Description 
Content summarizer 
Content fact-checker 
Meta description 
Generate FAQ
Headline Intro 
Paragraph Shredder
 Pricing Information: 
LongShot AI offers three basic pricing plans for its subscribers. 
Pro Plan will charge you $19 monthly with features including fact check & authenticity plug-ins, generating long-form content, unlimited access to topic research, and many more. 
Team Plan will cost you $49 per month. It includes advanced features like niche selection of fresh content, collaboration features, etc.
7. ChatGPT

ChatGPT is a text-generating neural network developed by OpenAI. It's an advanced form of natural language processing (NLP) that uses deep learning to generate human-like responses. The system is trained on millions of conversation logs and uses context to generate coherent, nuanced replies. ChatGPT can be used for various tasks, including customer service automation, automated writing assistants, interactive virtual agents, and more. 
Characteristics:
ChatGPT is a context-based system that can generate relevant answers to user queries. It can make use of background information and conversation history to come up with more sophisticated responses. 
It can also recognize user intents, making it easier to build more complex applications. Additionally, ChatGPT is highly efficient and doesn't require a lot of training data. All these features make ChatGPT an attractive tool for businesses looking to automate customer interactions or create interactive virtual agents. 
Key Features:
Here are some additional features offered by ChatGPT:
Unlimited Storage & Bandwidth

Free SSL Certificates

Free Domain Registration

1-click Installer for Popular Software

Regular Backups and Site Monitoring

24/7 Customer Support

Advanced Security Features
Pricing Information:
ChatGPT offers one of the most affordable subscription packages on the market. For just $20 per month, you'll get access to all our features and tools, automated customer engagement capabilities, advanced analytics insights, and more. 
8. Bard  
Bard is an experimental conversational AI service launched by Google in February 2023. It is designed to provide helpful information to users in natural, conversational ways.
Bard aims to understand casual language and user intent. It utilizes Google's knowledge graph and deep learning models to formulate relevant, thoughtful responses to questions and prompts.
Characteristics:
Bard is an AI chatbot focused on natural conversations and thoughtful explanations. It leverages Google's vast knowledge and the web to provide factual, creative responses based on context rather than just short answers. 
Bard comprehends casual language and gives helpful perspectives. As an evolving AI system, Bard still has limitations but shows promise in delivering more sophisticated dialog than earlier chatbots. Google plans rapid improvements so Bard can provide even more rounded, contextual responses.
Key Features:
Here are some additional features offered by Bard:
Conversational interface for natural dialog 

Contextual responses based on user prompts 

Leverages the web for factual information

Creative suggestions when asked for ideas

Evolving capabilities via rapid Google upgrades
Pricing Information:
Bard is currently being offered free of charge. Google plans to add premium features in the future, but for now, it is a great way to try out AI-powered conversations at no cost.
How To Choose An AI Writing Tool?
When looking for an AI writing tool, it's important to consider what you need and what features the tool offers. For example, research different tools and read reviews to understand the options available better.
When deciding, look at how user-friendly the tool is, how much support and customer service it provides, and if it offers any customization options. Additionally, check what kind of output the tool produces – some produce natural-sounding text, while others are more robotic.
Lastly, consider the tool's cost and how often you will use it. Considering all these factors should help you decide which AI writing tool is best for you.
Related Read:
Conclusion: Best AI Writing Software 2023
There we go. This compilation of the best AI writing tools will help you understand their key features and differences more clearly. Each tool mentioned above is specialized for a specific class of writers.

If you work in an SEO environment and need to write content for web pages, INK editor is the best option. The SEO assistant allows you to customize your content based on your requirement.
If you struggle to pick the perfect writing software, you can go with Jasper. The tool is popular for its overall performance and quality of content.
Copy AI is for you if you need to generate marketing copies daily. Its advanced AI features help you write quick and efficient business documents in a very short amount of time.
Most of the tools offer a free plan where you can get a basic idea of the functionality and evaluate its performance based on your type of writing. As I mentioned above, the tools are designed to keep a certain class of writers in focus. Ensure you understand your writing style and requirements before choosing a paid plan from any tool.
Frequently Asked Questions
What is the use of AI writing software?
AI writing software can help you create error-free and quality content in a short time. All you need to do is write your content and pass it through the AI tool; it highlights the mistakes and suggests possible improvements.
Which is the cheapest AI writing tool available?
Rytr is one of the cheapest AI writing software, with plans starting at $9/month.
Which AI writing software is the best for SEO content writers?
INK editor comes with an SEO assistant and helps you generate high-quality website content to help you move upward in search engine results.
How can I improve the quality of content in my writing?
You can manually edit your articles or hire professional writers to check and improve your writing materials. For example, you can pick any AI writing software available to save time and money.