Are you searching for a comparison between Grammarly and Ginger, the two beasts in the arena of grammar checkers? If so, you have landed in the right place. In this article, we will be comparing both platforms on various parameters. This way, you can figure out which platform will work the best for you.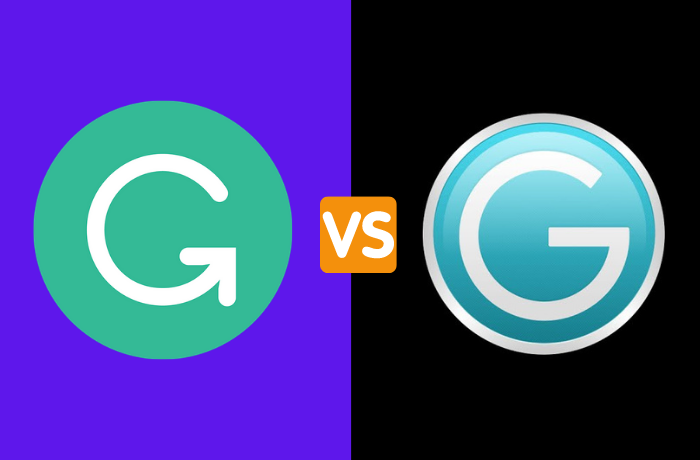 But before we get started, let us have a brief overview of both these platforms.
Grammarly vs Ginger – The Overview
Grammarly Overview:
Grammarly is one of the most prominent and viable grammar checkers out there in the market that can check what you write for around 250 grammar pointers. What makes it so incredible is that it does not only check the subject-verb agreement in a statement, but it also has the potential to check if the word you are using is out of context. This works best when the words are often misused, for example, lie and lay, effect and affect, and many such words.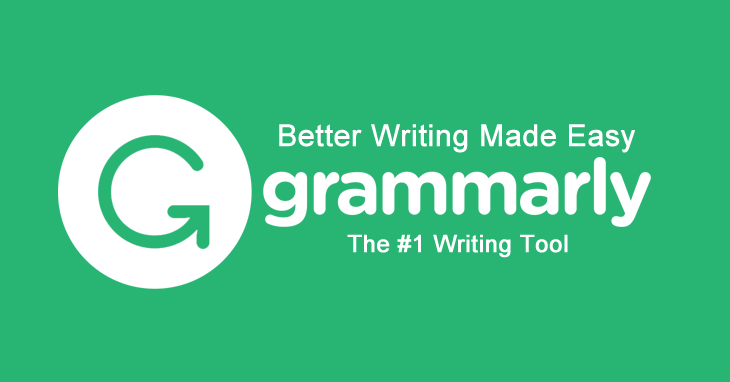 Grammarly is for those who are in search of accurate, fast, and better proofreading. This tool can check and suggest various fixes regarding punctuations, grammatical errors, and spelling mistakes in a matter of just a few seconds. Providing suggestions about enhancing the vocabulary and bringing about improvement in style, clarity and readability are few among the plethora of features that Grammarly offers.
Grammarly has three pricing options to offer viz. Free, Premium, and Business Plans. In the free plan, you get basic suggestions on writing. 
The Premium Plan starts from $11.66 per month, where along with the basic suggestions on writing, you also get corrections regarding style, clarity, and many other advanced things.
The Business Plan starts from $12.50 per member per month, and here you get clear and professional communication for a team that ranges from 3 to 149 people.
Ginger Overview:
On the other hand, Ginger is a tool for language enhancement online that can help you write better English. The software is pretty unique and doesn't check every word that is misspelled. This is because it works based on the context that your complete statement has.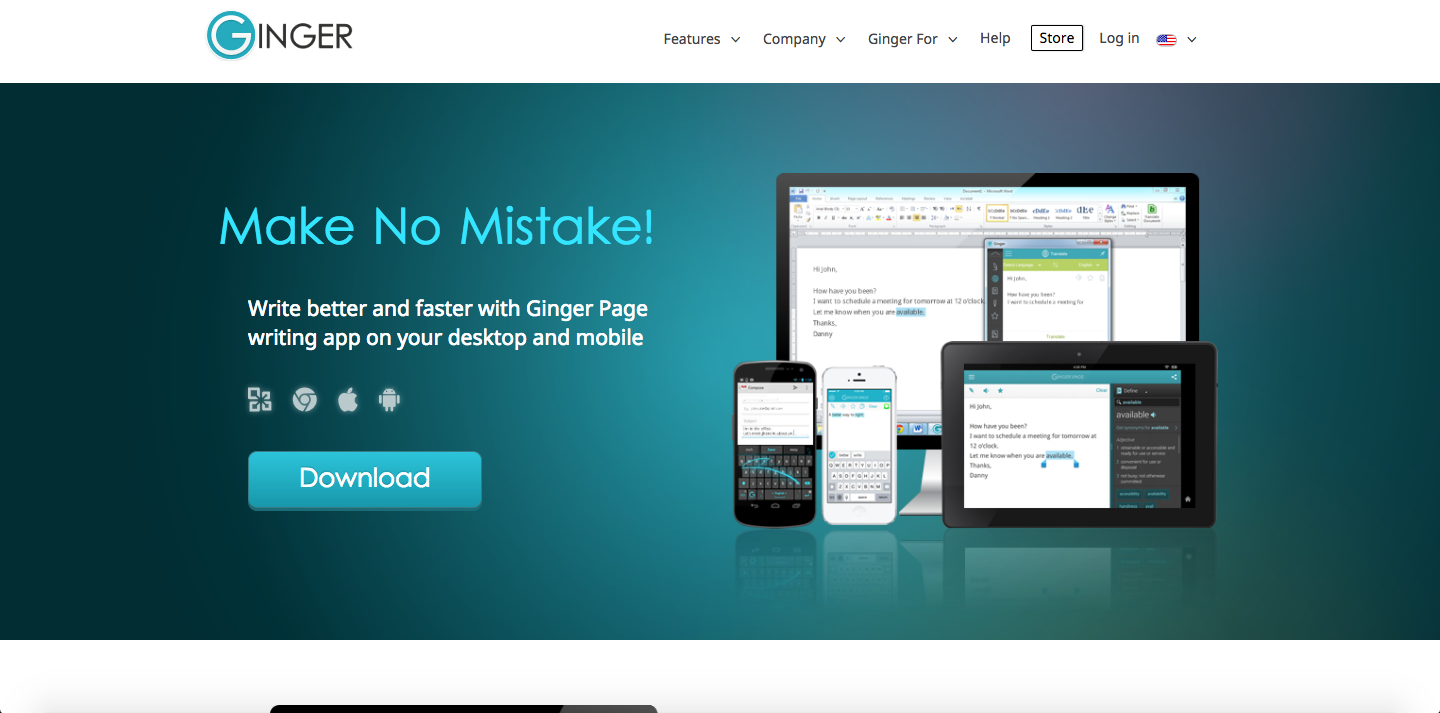 Ginger first understands the entire sentence and then suggests the corrections based on the context to put it in perspective. The tool helps you in writing better by suggesting the correction in both common and advanced mistakes. What makes it so incredible is that you can improve your command of the English language as you can learn from your spelling and grammatical errors. Ginger works just great for both native and non-native English speakers, and they can take advantage of it.
Apart from the free plan, Ginger has three pricing plans to offer viz: Monthly, Annual, and Two Years. 
The monthly plan currently costs $20.97 per month. 

The annual Plan currently costs $7.49 per month.

The two-yearly Plan currently costs $6.66 per month.
All the plans have unlimited rephrasing and grammar checks to offer. You also get instant text translation and expanded synonyms that are based on Artificial intelligence.
Now that we have a basic idea about how both these platforms work let us start comparing them. To make it easy for you to understand, we have ended the comparison on each platform with a Verdict which states the best option on that parameter. So let us get started.
Grammarly VS Ginger: Database And Accuracy
1. Grammarly
Grammarly possesses a proofreading database from more than 16 billion sources. This means it is super accurate. You will get an entire breakdown of everything that looks great and that doesn't. This platform boasts a huge amount of users, and that is why they provide some of the contexts by ranking the grammar of your text and the style of writing against everyone else added to the service.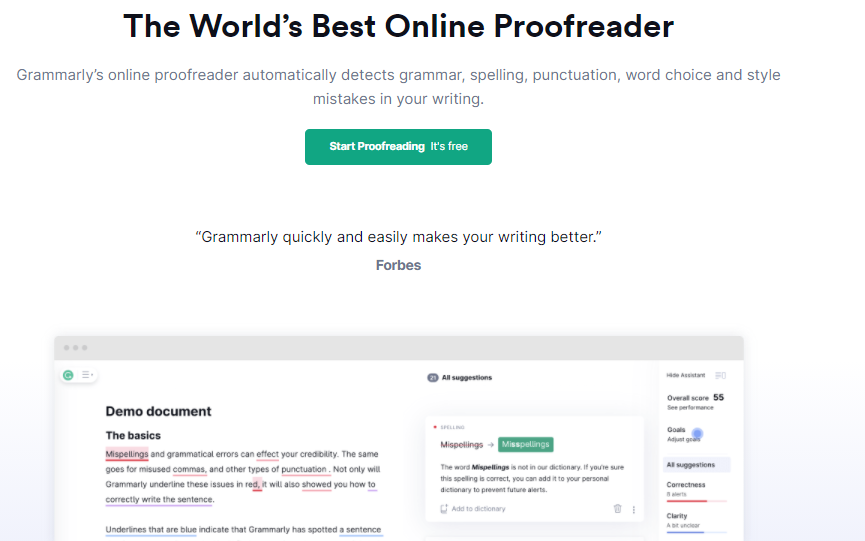 Additionally, the editor provided by Grammarly has a complete grammar check to offer so that you know what is exactly wrong with your text. It also has the potential of catching the sentence fragments.
That is not all; you get many helpful suggestions and descriptions so that you learn from your mistakes and not repeat them. This way, you can become great at figuring out the errors in grammar on your own, and your command of the English language will improve. The same goes for the structure of your sentence and style of writing.
2. Ginger
On the other hand, Ginger has the 'sentence rephrase' tool to offer that can help you automatically rewrite the sentences and texts that are hard-to-read. This way, the structure of your sentences and grammar get a lot more accurate and smooth.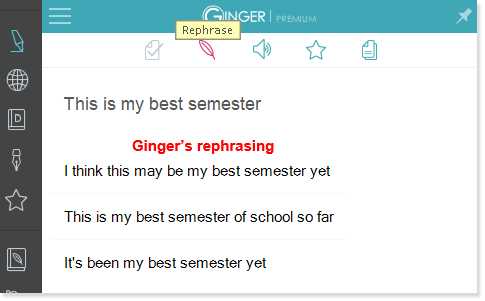 The significant part about Ginger is its incredible multilingual support. Ginger has the feature of English Personal Trainer to offer to work as a personal coach for enhancing your command of the English language.
Our Verdict
Grammarly has the edge over Ginger in this parameter. Ginger does not have a transparent number of databases, so you cannot be sure about how far-reaching the tool is. Also, the options of reporting by Ginger are not that great, and thus, you do not get the exact level of context and detailing that you get from Grammarly. With Grammarly, you get a much bigger and, most importantly, a verified database as well as much better editor reporting. 
Grammarly VS Ginger: Limitations
1. Grammarly Limitations
Unlike any other grammar checker, Grammarly has a lot more access to offer in the free version. They do have some restrictions in their paid plans in around hundreds of thousand words every month. 
2. Ginger Limitations
Ginger offers only 14 corrections per month for free users, but on the other hand, it has unlimited access to provide for the paying members.
Our Verdict
If you do not need the advanced-level features in proofreading like the plagiarism check, you do not even need to spare a penny for Grammarly, and the free version will just be enough.
On the other hand, Ginger is not a great option if you wish to use it for free as you are limited to 14 corrections a month. All in all, Grammarly has an edge here over Ginger. But in the paid option where Ginger gives unlimited access to the member who paid, Grammarly does have some restrictions.
Grammarly VS Ginger: Device Compatibility
Both the platforms have a neck-to-neck competition when it comes to devise compatibility. Ginger, as well as Grammarly, has excellent web-based proofreading options to offer. Both of them also have great browser extensions. They both have desktop apps to provide that can work well with the Microsoft Office Suite.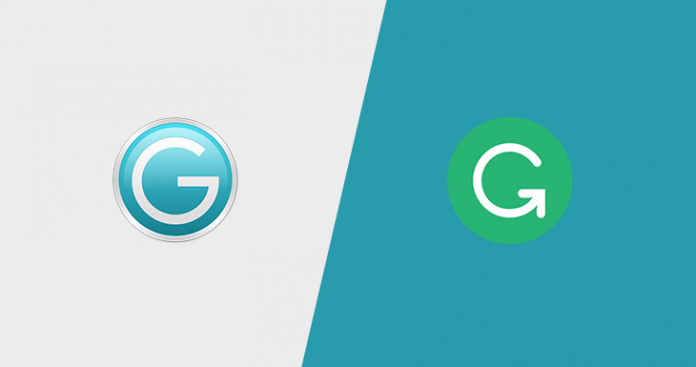 The extension for MS Word brings a lot of the same functionality from their feature-packed web version. Both of them support iOS as well as Android mobile devices. 
Our Verdict
Despite the cut-throat competition they both give, Grammarly wins this category because Ginger is not compatible with macOS. On the other hand, Grammarly is compatible with macOS as well. 
Grammarly VS Ginger: Customer Service
Customer service is one of the most overlooked but crucial aspects to look for when opting for a platform. If you are in some sort of trouble, it is customer service that comes in handy. In this case, both the platforms do not have a live chat option to offer, and ticket requests need to be raised.
Grammarly offers a response to the support ticker in the period of 60 minutes, which is an incredible speed. But unfortunately, that is not the case with Ginger, wherein they take over a day to respond. This might not be an issue if you have a simple query, but if you miss a deadline because of some technical snag, then customer service comes in handy.
Our Verdict
Grammarly wins the comparison in this battle.
Grammarly VS Ginger: Multilingual Proofreading
1. Grammarly
The only language that Grammarly supports is the English language. The platform is excellent if you need help with differences in English languages in British or Canadian accents. 
2. Ginger
Ginger supports more than 40 significant languages, and all you have to do is opt for the home language and set the destination language. Next, you can drop in the content and click on the "Translate" option. It is pretty easy to check the text in a particular language and correct all Ginger's mistakes. 
Our Verdict
Undoubtedly, Ginger is a perfect solution for international users being used or if you want support for more than just the English language.
Frequently Asked Questions:
Q1. Can Ginger Detect Mistakes In Other Languages?
A: Though Ginger can translate in around 40 languages, it detects errors only in English.
Q2. Can Ginger Work With macOS?
A: No, Ginger is currently not working on the macOS.
Q3. Does Grammarly Support Any Language Other Than English?
A: No, Grammarly supports only the English language.
Conclusion:
Both these platforms are excellent, and thus it is a close call. Both the tools have many things to like, but at the same time, there are differences in certain vital parts. If you are looking for an app with the ability to check plagiarism and top-notch accuracy, you should opt for Grammarly. The desktop and the app version offer instant proofreading, ensuring that the text is plagiarism-free and has excellent structure.
If you are searching for a platform that can offer multilingual options, then Ginger is the one for you. It can prove out to be an excellent software for proofreading that can spot grammatical errors.