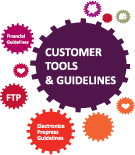 While Thomson-Shore strives to continuously produce the best books, we also strive to ensure that working with us makes financial sense. Since our customers' needs and budgets vary widely, we offer flexible options and cost-conscious alternatives to meet your diverse needs.
The links below provide resources to answer questions about your financial concerns:
Financial / Taxes
Thomson-Shore offers a variety of payments options and financial resources that may be applicable to your organization. Browse through these documents to find instructions for our different payment options and sales tax exemption forms and resources.
Thomson-Shore Credit Application
Many of our regular customers utilize our credit program for its valuable benefits: increased convenience and manageability. To start a credit relationship with us, you must first complete and submit this form. Save the Credit Application to your desktop, fill out and submit using your default email application.
If you have any questions about our the financial information on this page please contact us.
Contact Us