Design and Editing Service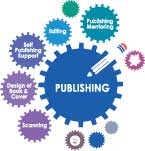 Thomson-Shore's Publishing Experts have the experience and expertise to help keep your project on track. Professional design and editing will make the difference in an ordinary book to a must have. We will take your vision and give it form, creating a book that will look great on shelves far beyond your own. Our award-winning designers are experienced in producing books for publishers of all sizes. You have the final decision on the design, but we make sure it is an informed decision with great options to fit your book.
Editing:
Good editing ensures your reader keeps reading and that your book speaks volumes.
Interior Design:
Professional design is critical to communicate and market your book. Selecting the perfect fonts, line spacing, designing chapter opening pages, creating headers and footers, and laying out the photos or images are all important aspects to consider when designing the interior of your book. We can help you.
Cover Design:
The cover needs to attract the reader to the book and motivate them to give it a closer look. We give you the choices – we design a custom cover for each book based on your input, the book's content and the target market.
Editorial Review
Editorial review provides a fresh perspective that helps authors determine the best next step for their book. It helps our customers gain confidence that they are taking the right step towards achieving success for their title.
Line Editing
Line editing provides a review of the basic mechanics of the English language. An editor checks the manuscript for errors in spelling, grammar, and punctuation. The editor will also address syntax and word choice and make recommendations for improving the overall readability of the work.
Content Editing
In addition to performing the functions of a Line Edit listed above, a content editor will work to ensure the general accuracy and consistency of content and will focus more on extensive restructuring of sentences. The editor will focus on maintaining consistency of details, information and ideas.
Content Interior Design
The content of your book must be reflected in the interior design. An ornate design with borders and script fonts will be suitable for some titles, while a simple, clean layout is appropriate for others. For example, the design of a children's book should enable a child to read without any difficulty. This service will ensure that your book has a professionally designed interior that meets today's market standards and ensures maximum readability for your target audience.
Cover and Jacket Design
Let one of our expert cover designers help you create a powerful cover that will appeal to your readers by blending art with commerce.
Contact us today to get started. We'll listen to you, walk you through all of the options, and provide a plan specific to your needs.
Request a Quote for Publishing Services