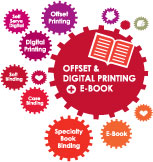 Thomson-Shore has the expertise to scan halftones and text. We provide you with options and support to get you there.
We have the ability to scan 1-color, 2-color and 4-color, we can recreate die art, and we can scan from hard copy or negatives.
Our scanning teams has scanned delicate vintage books with old crisp pages that had foxing….in addition to scanning watercolor pictures for children's books and photographs.
You provide us with the challenge and we will provide a quality product.
Contact us today to get started. We'll listen to you, walk you through all of the options, and provide a plan specific to your needs.
Request a Scanning Quote