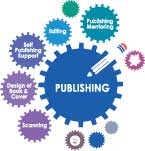 Print on Demand (POD) is a production and distribution model in which books are only printed as orders are received from consumers. It's a great, low-risk way for our distribution services clients to make books available to the book trade. We offer a traditional print on demand model, in which consumers order books from us directly, but also much more, including POD for wholesale orders and Amazon.com.
You provide us with files and specifications so we can print books when orders are received. POD even allows you to make changes to your book and re-upload files, when you need to, ensuring that the latest and greatest version is always available.
With POD, you do not need to print a quantity of books in advance – we print as orders are received. You do have the ability to print a large quantity any time you need it. Our distribution team will even help with demand analysis to help you decide when to switch to short run printing options.
Options include:
L'esperienza, le recensioni dei clienti circa acquisto cialis on line i nostri clienti abituali pubblicano le proprie opinioni e suggerimenti Pillole Dimagranti Publisher Driven Order Fulfillment: You receive orders from your own website and collect payment. You then send us the order information to print and ship books.
Direct-to-Consumer POD: You direct shoppers to a link to your book's page our online store www.SeattleBookCompany.com where shoppers place orders. We'll collect payment then print and ship books directly to the shopper. You receive a monthly statement with the details along with a royalty check.
Trade POD: We make your book available to major wholesalers like Ingram and Baker & Taylor as well as manage your online retail sales through Amazon.com. As we receive orders from these sales platforms, we print your books on demand and fulfill to the buyers. You just let us set it up and we'll take care of the rest, making your book available just about everywhere.
For more information and discussion regarding your needs, Contact us today to get started.  We'll walk you through all the available options and provide a pricing quote specific to your needs.
Request a Quote for Publishing