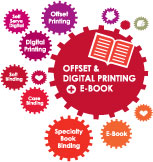 Bessenberg Bindery at Thomson-Shore
We are a specialty book bindery that offers a full range of sewn, hardcover book binding, custom boxes, book repair, prototype objects, custom photo albums and scrap books, portfolios, and desk accessories. Bessenberg Bindery also works with great care to bring your family heirloom books or Bibles back to their original glory. We quote jobs as small as one book, or as large as 500.
We are a craft shop. Our work is customized to meet our clients' particular requirements. In both original binding and in book repair we stress attractiveness, proper fit and durability.

For more information, please contact us at 734.426.3939 or bessenberg@thomsonshore.com
We'll listen to you, walk you through all of the options, and provide a plan specific to your needs.
Bessenberg Price List
Request a Bessenberg Quote