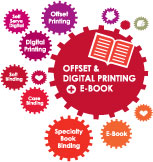 Bessenberg Bindery at Thomson-Shore has served the academic, medical, legal, publishing, advertising and book collecting communities since 1978. Through our Bessenberg Bindery we can offer a full range of sewn, hardcover book binding, custom boxes, book repair, leather binding prototype objects,  and more. We quote jobs as small as one book, or as large as 200. A full list of products and services can be found at Bessenberg.com.
Tray Cases
Slip Cases
Presentation Books and Boxes
Photo Albums
Scrapbooks
Special Editions
Legal Book
Edition Binding
Book Repair
Bible Repair
Periodicals
Thesis/Dissertation
Custom Stamping
For more information, please contact us at 734.426.6291 or bessenberg@tshore.com
We'll listen to you, walk you through all of the options, and provide a plan specific to your needs.