Lord of Misrule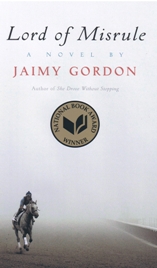 In presenting Jaimy Gordon with the 2010 National Book Award for this month's featured book
Lord of Misrule
, Joanna Scott reminded the audience of fiction's great power to surprise the reader. In
Lord of Misrule
Gordon does just this, in part, through her remarkably poetic and observant voice.
Finding poetry in the dark world of cheap horse racing is not an easy feat. In a business fraught with greed and abuse, a witness must work to find the decency, if not goodness, therein. By creating complex characters who, through their unique flaws and ordinary humanity, depict an intricate scenery, Gordon makes a widely unfamiliar world recognizable to the reader.
"These days when Maggie was alone with Little Spinoza, after he had walked or worked or had his bath, she rubbed him—she didn't exactly know the derivation of this ancient slang for what a groom is supposed to do to a horse, only that was what the old guys told people they did: Been rubbing horses nigh on thirty five years now, or, Back when I rub horses for Happy Blount at Hot Springs, whatever it meant. But she sensed a thread had been dropped somewhere, the route to some secret heart of this business had been lost. She didn't know anyone who literally rubbed a horse, not even old Duecey."
If there is one thing Lord of Misrule offers, though certainly there is much to savor, it is the commanding impact the story has on a reader's senses. Gordon uses language's lyricism, not simply words, to weave her backdrop. Though equally painful and humorous, this novel is nonetheless a magnetic, compelling story from start to finish.

Order your copy today!