Undoubtedly, Quillbot is one of the powerful AI paraphrasing tools with plenty of excellent features. However, before investing or using the tool, you may look for a reliable Quillbot review. Unfortunately, the internet is mixed with plenty of biased reviews, leaving you overwhelmed and confused.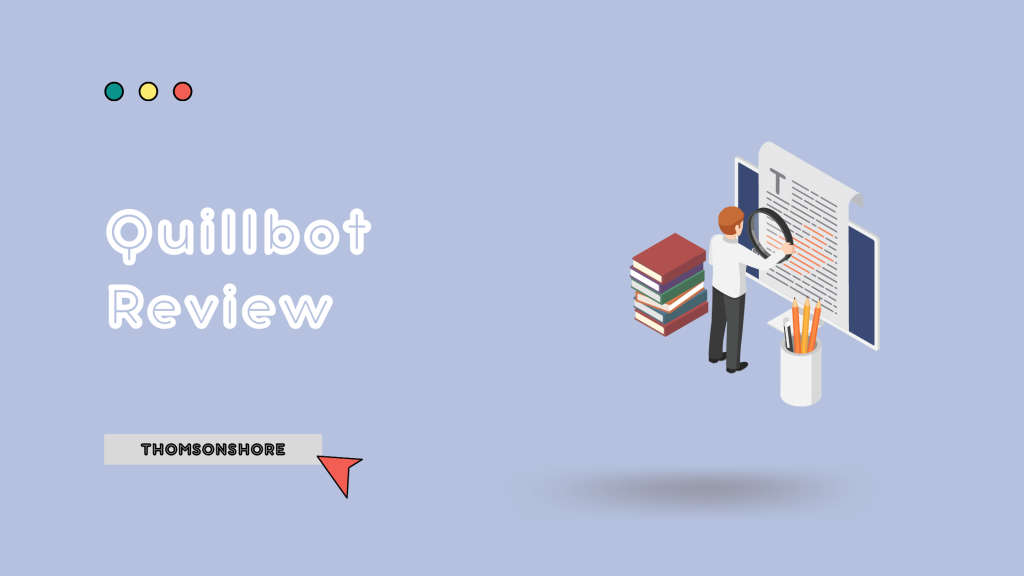 Therefore, we decided to make your search hassle-free! We have been using Quillbot for various reasons, so we decided to write down an honest and unbiased Quillbot review with all the details, including features, tools, pricing, and more.
By the end of the article, you will be able to decide whether the tool is worth it or just another waste of money!
With that, let's get into the details below.
Quillbot: Overview
Quillbot is an AI-based paraphrasing tool with thousands of users globally. It offers excellent functionalities like a grammar checker, co-writing tool, summarizer, citation generator, and plagiarism checker.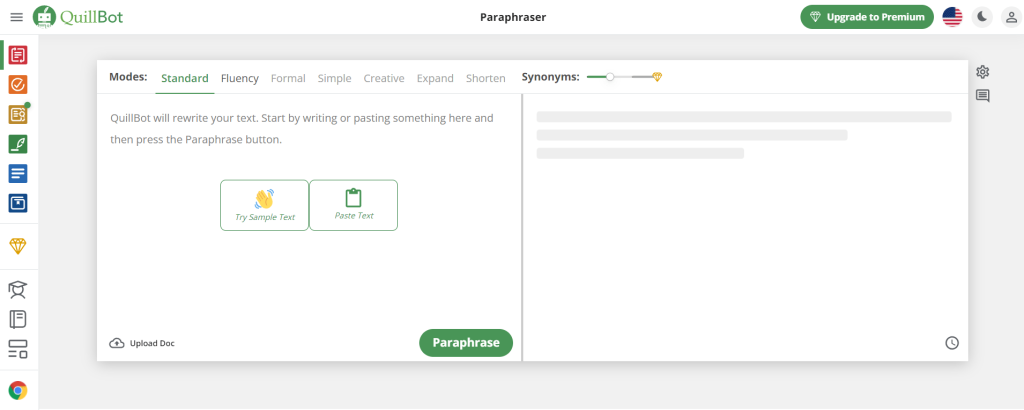 Additionally, Quillbot can be a one-stop destination for all writing needs. You can reconstruct your work, detect its grammatical errors and keep a plagiarism check. It also offers a free version for users who need a budget-friendly tool for their writing!
Quillbot: Key Features
Now that you have read the overview, we will dive into more intimate details. Let us start with the key features that Quillbot offers.
Summarizer compiles essential sentences in a list format
The Paraphraser tool processes 2-15 corrections at once.
Offers Chrome and Doc extension
Create APA, MLA, and Chicago style citations
All-in-one Co-writer tool
Exceptional customer support
Quillbot: How is The User Interface?
Quillbot has an easy and simple interface for its users. The overall layout is easy to navigate and beginner-friendly. Most of its tools are easily accessible and displayed on the main webpage. All you have to do is paste your content and hit the green button at the bottom. In addition, you can also control its AI technology by setting the tonal modes.
When we used Quillbot for the first time, we did not encounter any complications in understanding the interface as it was pretty straightforward to skim through.
Quillbot: How Well Does Paraphrasing Tool Work?

Quillbot's Paraphrasing tool ranks among the top rephrasing tools on the internet. The paraphrasing tool serves the purpose of an ideal rephrasing tool. It rewrites the content in a well-structured format, setting a tone for the readers. Moreover, there are seven editing modes: Standard, Fluency, Formal, etc. The paraphraser is displayed on the website's main page and is easily accessible.
Quillbot: How Reliable is Grammar Checking?
Quillbot's Grammar checker uses NLP to provide your sentences and paragraphs with better structure. So instead of going through every word and punctuation of your content, you can run your content through Quillbot's grammar checker.

After you are done writing your article, check it through Quillbot's grammar checker, and it will point out essential grammatical errors, spelling mistakes, punctuation mistakes, etc. Once all the errors are corrected, you will have a polished draft of your article. Although the grammar checking part is not 100% reliable, you can still count on its grammar checking tool for the basic corrections.
Quillbot: Plagiarism Checker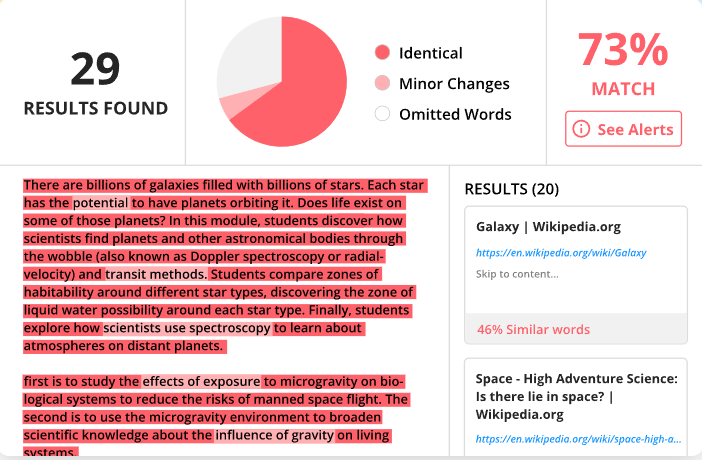 The recent most talked addition to the Quillbot's software is its plagiarism checker. Its plagiarism checker compares your work through billions of online sources and provides you with a detailed report and a plagiarism score. It will help you prevent any kind of mishap or embarrassment in your workplace.
Quillbot: Different Ways to Use Quillbot
In this section, we will expand your horizon about Quillbot's uses. Quillbot is used in other ways than a web interface or a desktop application. So let us look at four additional ways to use Quillbot.
The Quillbot Website:
The best part about Quillbot's website is that you can access it from anywhere. You can simply use the browser from your desktop, laptop, or mobile. Once you have entered the website, you only have to insert your text to edit it. Furthermore, you can use Quillbot's website to paraphrase, summarize, replace words with synonyms, etc.
Quillbot for MS Word:
To use Quillbot in Microsoft Word, you have to install the Quillbot Add-in. The installation is very convenient and can be done in a few steps. First, you have to open Word, click on the 'Insert' option, and select the 'Add-in' feature. Further, Quillbot will direct you to the office store from where you can add Quillbot by typing it in the search bar. Finally, Quillbot Add-in is ready to be installed.
Quillbot browser extension:
Quillbot browser extension makes your everyday writing tasks less hectic. For example, suppose you want to add the Quillbot Chrome extension. First, visit their website, and select their 'Go to Extensions' option from their Primary menu. Next, select the Google Chrome option, and you will be directed to a new tab. Click on the Add extension button, and it will add the extension to the browser.
Quillbot Google docs Add-in:
Quillbot also has an Add-in option for Google docs. It can be helpful for people who use Google Docs regularly without going on the official website. To add Quillbot to your Google Docs, go to the Quillbot website, visit the 'Go to Extensions' from the Primary menu, and select Google docs. Then, click on the install button on the redirected page, and that's it. You have the Quillbot Add-in in your Google Docs.
Quillbot: What Are The Other Tools it Offers?
Besides all the tools mentioned above, Quillbot offers some additional tools to make writing a better experience for everyone.
Co-writer- This tool is a one-stop writing partner for all your requirements. It detects the tone of your content, reconstructs it, identifies grammatical errors, and enables searching for new information.
Citation Generator– The citation generator lets you create different types of citations in seconds. It enables you to cite books as well as websites.
Summarizer- The Summarizer tool helps you summarize your content by focusing more on the core points and refining other unwanted text or information. It summarizes in two forms- list building of meaningful sentences and refining paragraphs for a better structure.
Quillbot: Customer Support
Quillbot offers customer support 24/7, 365 days a year. In addition, they provide aid for any paraphrasing and writing issues you are facing. You can head to their Support center by clicking on 'Contact Us,' where you can enter your queries or feedback and send them to their team. Their team will usually get back to you within a few hours with a solution.

Quillbot customer support also offers blogs post, videos, and FAQs to answer your questions. If you still don't get the desired answer, you can enter your queries in the message box.
Quillbot: Pricing Explained!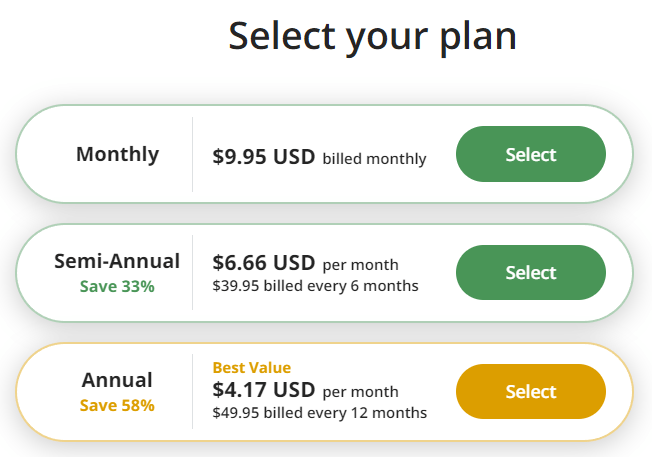 Quillbot offers a free version without any time limit. However, the free version does come with a lot of restrictions. So to access all the features, you will have to upgrade to their premium subscription. The three plans it offers are as follows:
Monthly: If you are looking for something short, you can opt for their monthly plan. Its starts at $9.95 per month.
Semi-annual: This plan is best suited for people with frequent writing projects. It starts at $6.66 per month.
Annual: Starting at $4.17 per month, this is their best value plan and is perfect for professional writers and higher education students.
Quillbot: Pros and Cons
No matter how excellent a tool is, there are always the good and the bad side. Therefore, before we wrap our content, here are a few pros and cons you should know about Quillbot.
Pros:
No registration or sign-up is required for the free version.
One-stop destination for all your writing needs
Premium Praphraser tool has a character limit of 10,000
Premium Summarizer tool has a character limit of 25,000
Several Freeze words and sentences
5+ writing modes
Cons:
The plagiarism checker is not included in the free version.
The free version offers a single-word freezing limit.
Quillbot: Who is Quillbot Ideal For?
Quillbot offers its users a wide range of tools and functionalities. All of them are necessary for writing exceptional articles, blogs, or assignments. As far as our experience, we have noticed Quillbot is a perfect writing tool for people in the following criteria:
Academics and University students:
Quillbot paraphrasing tool rewrites content within seconds and provides authentic results. It is perfect for university student to refine their essays, assignments, and research papers.
SEO and Marketing Experts:
Although it doesn't have an integrated SEO tool like other tools, Quillbot is a great tool to edit blog posts and written content for your website as it rewrites in a way that improves your SEO ranking.
Quillbot's Summarizer tool helps you eliminate unwanted elements. This way, you can summarize the long paragraphs and allow your audience to only focus on the core elements of the article.
Alternatives Of Quillbot: 
There are lots of AI tools in the market, some of which offer similar services and features as Quillbot. So here we have listed some best alternatives to Quillbot. Let's have a look.
Word Ai
Jasper AI
Spin Rewriter
Grammarly
Spinbot
Conversion AI
Spinner Chief
You may find various alternatives to Quillbot in the market but the above-listed alternatives are the best.
Related Read:
Wrapping Up!
And that's a wrap to our Quillbot review! Based on our experience with Quillbot, the tool is an excellent choice for students, writers, and professionals. It caters to everyone's needs and provides exceptional functionalities. Even though Quillbot is known more for its paraphrasing tool, it creates a one-stop solution for your needs.
You can enjoy the free version initially. If you enjoy the tool, you can upgrade to the premium version to access all the features. So, go ahead and try Quillbot risk-free!
We hope our Quillbot review helped you understand whether Quillbot is worth it or not. Over to you. Are you giving Quillbot a shot? Let us know in the comments section below.