Having a collection of books but not reading the best ones is the worst that can happen to anyone, and this can happen to you with the Kindle Unlimited subscription!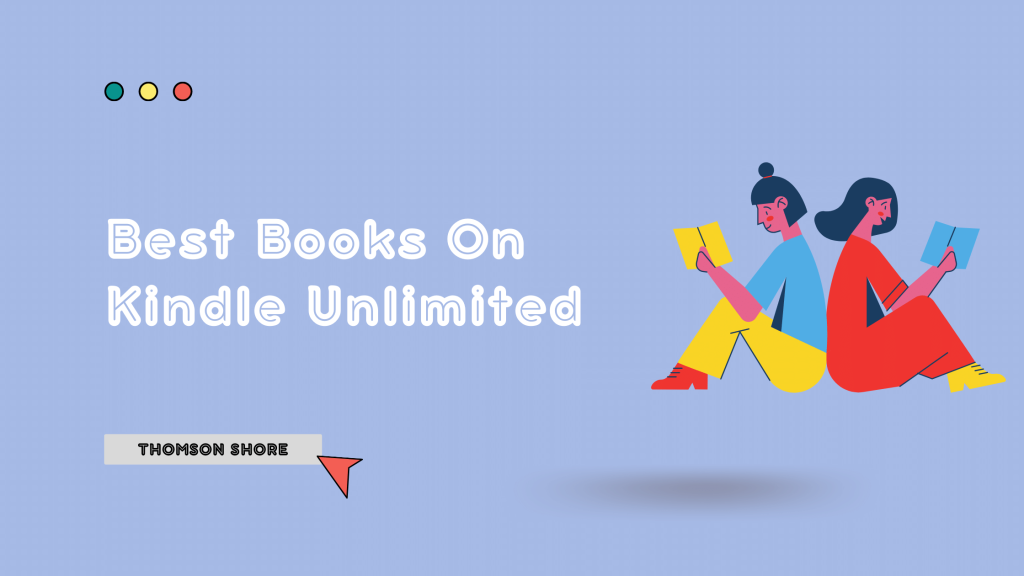 The Amazon Kindle Unlimited has over one million books in its catalog for its subscribers, and if you are a subscriber, you surely won't like to miss the best your subscription has to offer you.
Besides the best seller books, there are several hidden underrated books that people miss reading, being unknown to their existence. As book lovers, we handpicked some of the best books on kindle unlimited, which you shouldn't miss reading!
All the books mentioned in our list are based on our personal picks so that you can count on us!
So without wasting any more time, let's get into the article!
7+ Best Books on Kindle Unlimited
The Kindle Unlimited is the perfect place to say "so many books, so little time." Below is a list of all the best books on Kindle Unlimited.
1. Things We Never Got Over
If you are looking for a light-hearted, fun love story, 'Things we never got over by Lucy Score' is all you need. The story has a dramatic beginning with a bride Naomi, running away from her marriage to rescue her twin sister Tina. Naomi is shocked to see her twin sister leaving the town with Naomi's car and cash.

Naomi is now stuck in the town with her niece, which she never knew existed. When she meets Knox, a bad bay barber, the story takes a turn. Naomi and Knox have a lot of arguments, but seeming has sexual tension between them. This sentimental yet passionate love story will become any teen's favorite.
2. Birthday Girl
By New York Times bestselling author Penelope Douglas, the Birthday girl is an older man and younger girl romance. The story begins with a young girl, Jordan, waiting for her boyfriend at the cinema and encountering a good-looking older man. She talked to him and felt attracted to him. A few days after the incident, Jordan's boyfriend, Cole, shifted to his father's apartment with her.

Jordan finds out the older man she saw at the cinema is Pike, her boyfriend's father. Slowly Pike and Jordan develop feelings for each other, and you will have butterflies flying in your stomach throughout the story. The story challenges love norms where you experience love, intimacy, and the importance of decision-making.
3. The Locked Door
If you are a psychology thriller lover, this book will do justice to you. Being the kindle unlimited best seller by Freida McFadden, The locked door revolves around the story of a girl Nora, a successful surgeon.

When she was eleven, Nora found out her father was a serial killer, and both her parents got arrested. Her mother commits suicide before trial. Years after the incident, Nora finds her two patients getting killed in the same manner as her father killed his victims. But her father is in jail, so who killed them?
The answer will blow your mind when you find it out in the end. You will indeed get confused by the suspense and thrill this locked door has inside it. All and all, you won't leave the book till the end.
4. Torn
Age is just a number, proves "Torn" by Carian Cole, an age gap romance that revolves around Kenzie Valentine. The book represents an eighteen-year-old sweet young girl who falls in love with her father's best friend, Toren Grace. Toren is fifteen years older than Kenzie and has raised her since her birth. The age gap between Toren and Kenzie didn't stop them from having a great romance.

Kenzie has been headstrong about her feelings for Toren since she was five. Both the characters are mature, and the story is much more meaningful than just intimacy and lust, where both Toren and Kenzie display caring, loyal, and loving partners. The romance between the two characters is intense, and this passionate romantic novel is a must to read.
5. Forever Right Now
Forever right now by Emma Scott is the story of a single dad, Sawyer, and a young dancer, Darlene. The story explains why everyone deserves a second chance. It also describes the pain and beauty of Sawyer and Darlene. Sawyer is trying to raise her daughter Olivia while finishing law school. Darlene is a drug addict who is recovering and wants a new start in life, for which she shifts to New York in Sawyer's apartment.

Both feel attracted to each other, but a rocky path awaits them when Olivia's grandparents return, demanding her custody. You will experience a roller coaster ride in this love story filled with passion, intimacy, and hope for a better future.
6. The Essential Collection For Young Readers
If you are a reader who has just started reading or a teenager with a kindle unlimited subscription, go ahead and read Ruskin bond's, the essential collection of young readers. The book includes many classic tales for young readers, including Blue umbrella, girl on the train, the room of many colors, and coming home from Dehra.

The stories of love, friendship, kindness, and adventure will blow your mind and make you travel into a dream world without moving your feet while reading these fantastic collections of Ruskin Bond.
7. Mind is your Business and Body the Greatest Gadget (2 Books in 1)
A book by Sadhguru explains the human mind and body that will change your view on life forever. Mind is your business, and the body is the greatest asset that helps you to find peace in rough times. It will help you find your inner self and guide your life.

It will guide you to use your mind instead of getting used by your mind while explaining to you the most incredible device on the planet, which is knowingly unknown to humans. The books will change your perspective on life and make you feel like a superhuman.
Related Read:
Wrapping up!
That was it for the best books on kindle unlimited. Now you can take full advantage of your kindle unlimited subscription by reading these great books.
All the books mentioned above are best and worth reading, but to sum it up, read "The essential collection of young readers by Ruskin Bond" if you are a teen beginning your reading journey. If you are trying to find direction in life, read, "The mind is your business, and body is the greatest gadget."
Go for "The locked door" if you are looking for something thrilling and binge-worthy and for "Torn" if you are in the mood to read a passionate and unusual romance.
We hope the above article helped you pick the perfect book. What are your favorite books on kindle unlimited? Let us know in the comments below.