Are you looking for the best Kindle Unlimited Books to read in 2023? With a subscription service offering over a million e-books and audiobooks, Kindle Unlimited has something for everyone. Whether searching for historical fiction, sci-fi, fantasy books, or romantic comedy, this subscription service makes it easy to find what you want.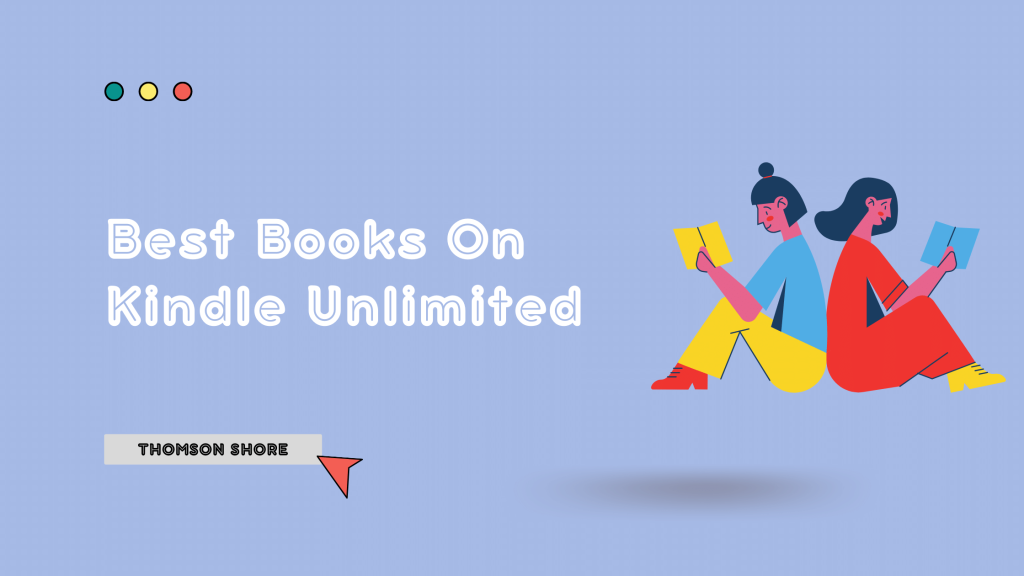 Plus, with narration available on select titles, you can even listen to your favorite books while on the move. In this article, we'll explore the 8+ best books available on Kindle Unlimited that will help you make the most of your subscription service in 2023!
All the books on our list are based on our picks so you can count on us! 
So without wasting any more time, let's get into the article! 
10+ Best Books on Kindle Unlimited
Plus, with narration available on select titles, you can even listen to your favorite books while on the move. In this article, we'll explore the 8+ best books available on Kindle Unlimited that will help you make the most of your subscription service in 2023!
1. Things We Never Got Over
If you are looking for a light-hearted, fun love story, 'Things we never got over by Lucy Score' is all you need. The story has a dramatic beginning with a bride Naomi, running away from her marriage to rescue her twin sister Tina. Naomi is shocked to see her twin sister leaving the town with Naomi's car and cash.

Naomi is now stuck in the town with her niece, which she never knew existed. The story takes a turn when she meets Knox, a bad bay barber. Naomi and Knox have a lot of arguments, but seeming has sexual tension between them. This sentimental yet passionate love story will become any teen's favorite.
2. Birthday Girl
By New York Times bestselling author Penelope Douglas, the Birthday Girl is an older man and younger girl romance. The story begins with a young girl, Jordan, waiting for her boyfriend at the cinema and encountering a good-looking older man. She talked to him and felt attracted to him. A few days after the incident, Jordan's boyfriend, Cole, shifted to his father's apartment with her.

Jordan discovers the older man she saw at the cinema is Pike, her boyfriend's father. Slowly Pike and Jordan develop feelings for each other, and you will have butterflies flying in your stomach throughout the story. The story challenges love norms where you experience love, intimacy and the importance of decision-making.
3. The Locked Door
If you are a psychology thriller lover, this book will do justice to you. Being the Kindle Unlimited best seller by Freida McFadden, The locked door revolves around the story of a girl named Nora, a successful surgeon.

When she was eleven, Nora discovered her father was a serial killer, and her parents got arrested. Her mother commits suicide before trial. Years after the incident, Nora finds her two patients getting killed in the same manner as her father killed his victims. But her father is in jail, so who killed them?
The answer will blow your mind when you find it out. You will get confused by the suspense and thrill this locked door has inside it. All and all, you won't leave the book till the end.
4. Torn
Age is just a number, proves "Torn" by Carian Cole, an age gap romance that revolves around Kenzie Valentine. The book represents an eighteen-year-old sweet young girl who falls in love with her father's best friend, Toren Grace. Toren is fifteen years older than Kenzie and has raised her since birth. The age gap between Toren and Kenzie didn't stop them from having a great romance.

Kenzie has been headstrong about her feelings for Toren since she was five. The characters are mature, and the story is much more meaningful than just intimacy and lust, where Toren and Kenzie display caring, loyal, and loving partners. The romance between the two characters is intense, and this passionate romantic novel must be read.
5. Forever Right Now
Forever right now by Emma Scott is the story of a single dad, Sawyer, and a young dancer, Darlene. The story explains why everyone deserves a second chance and describes the pain and beauty of Sawyer and Darlene.
Sawyer is trying to raise her daughter Olivia while finishing law school. Darlene is a drug addict who is recovering and wants a new start in life, for which she shifts to New York to Sawyer's apartment.

Both are attracted to each other, but a rocky path awaits them when Olivia's grandparents return, demanding custody. You will experience a roller coaster ride in this love story filled with passion, intimacy, and hope for a better future.
6. The Essential Collection For Young Readers
If you are a reader who has just started reading or a teenager with a Kindle Unlimited subscription, go ahead and read Ruskin Bond's essential collection of young readers. The book includes many classic tales for young readers, including Blue Umbrella, the girl on the train, the room of many colors, and coming home from Dehra.

The stories of love, friendship, kindness, and adventure will blow your mind and make your travel into a dream world without moving your feet while reading these fantastic collections of Ruskin Bond.
7. Mind Is Your Business And Body the Greatest Gadget (2 Books in 1)
A book by Sadhguru explains the human mind and body that will change your view on life forever. Mind is your business, and the body is the greatest asset that helps you to find peace in rough times. It will help you find your inner self and guide your life.

It will guide you to use your mind instead of getting used by your mind while explaining to you the most incredible device on the planet, which is knowingly unknown to humans. The books will change your perspective on life and make you feel like a superhuman.
8. The Humans
Matt Haig's novel, The Humans, enthralls and challenges readers with its entertaining plot. The story follows an alien who assumes a professor's role at Cambridge University. While subject to our species' crude idiosyncrasies, the alien's quest to decipher the complex nature of human behavior and reconcile logic with emotion endears him to the reader. 

The work is a brilliant perspective on the cliché "alien coming to Earth" storyline. It will leave you amused with its wit, humor, and philosophical insight. Whether in need of a lighthearted read or intellectual stimulation, The Humans is the perfect choice. 
9. The Fault In Our Stars
The Fault In Our Stars is a beautiful, heartwrenching young adult novel by John Green. It's about two teenagers, Hazel and Augustus, who meet in a cancer support group. They fall deeply in love, even knowing they're both living on borrowed time. 

Their connection is powerful – they try to pack a lifetime of love and fun into however long they have. You'll laugh, cry, and really feel for these characters. It's an emotional but uplifting read about making the absolute most of the time you have, not taking things for granted, and the strength of love in hard times. A fantastic, thoughtful teen romance.
10. The Last Anniversary
In The Last Anniversary, Liane Moriarty weaves together a compelling family saga and mystery. It centers on Sophie, an unmarried older woman who stumbles into secrets about her family's history. As she digs into the past, following a trail of long-hidden scandals, tragedies, and love affairs, Sophie starts to unravel the web of secrets surrounding a long-ago tragedy. 

This book has it all – romance, generational drama, touches of humor, and an intriguing core mystery. It will keep you rapidly turning pages to uncover the truth along with Sophie. An engaging read that spans eras and relationships to tell a riveting, satisfying story.
How does Kindle Unlimited work?
Kindle Unlimited is a subscription service that offers access to over a million e-books, audiobooks, and other content. It's available on Kindle devices and apps, making it easy to enjoy the best kindle unlimited books anywhere. The content includes historical fiction, sci-fi and fantasy books, romantic comedies, and more across all genres.
With Kindle Unlimited, you can narrate your books or listen to the narration of other books available in the service. It has an extensive library with over a million e-books and thousands of audiobooks, so you can pick your favorite genre or try something new.
Plus, you can also download the titles for offline access. With Kindle Unlimited, you'll never run out of books to read or listen to!
Prime Reading vs. Kindle Unlimited
Pricing is an important factor to consider when deciding between Prime Reading and Kindle Unlimited. Prime Reading is included with your Amazon Prime membership at no extra cost, while Kindle Unlimited requires a monthly subscription fee. With Kindle Unlimited, you can access over 1 million titles, including e-books, audiobooks, and magazines.
On the other hand, Prime Reading gives users access to over 1,000 titles, including books, magazines, comics, and more.
It also provides access to Audible Channels, including short audio programs like news briefings and Audible Originals. Both services offer great value for money, but Kindle Unlimited might be the better option if you are looking for a larger selection.
Related Read:
Final Word: Best Books on Kindle Unlimited
That was it for the best books on kindle unlimited. Now you can kindle advantage of your unlimited subscription by reading these great books.
All the books mentioned above are best and worth reading, but to sum it up, read "The essential collection of young readers by Ruskin Bond" if you are a teen beginning your reading journey. If you are trying to find direction in life, read, "The mind is your business, and the body is the greatest gadget."
Go for "The locked door" if you are looking for something thrilling and binge-worthy, and for "Torn" if you want to read a passionate and unusual romance.
We hope the above article helped you pick the perfect book. What Kindleur favorite books on kindle unlimited? Let us know in the comments below.